The whites of Miles Blomgren's eyes are actually white.
That's no small accomplishment for the 2-year-old. Just a few months ago his eyes were yellow and his skin had a jaundiced cast to it both caused by a failing liver that wouldn't discard bile.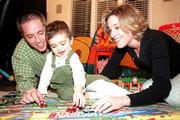 In November, though, doctors removed part of Dan Blomgren's liver and transplanted it to his young son. Soon, Miles' eyes and skin began to return to a healthy color.
"That happened within days of the surgery," Dan Blomgren said.
And it's apparent, as Miles giggles devilishly and tugs on his dad's ear, that the little boy is more energetic than he's ever been.
"His activity level has improved greatly," said his mother, Jill. "He's more ornery."
The Journal-World first reported on Miles' condition in October. Shortly afterward, the family took him to Chicago for his six-month checkup. Doctors told them Miles' liver, never in good shape, was failing.
The Blomgrens had been on a waiting list for a liver transplant. Now they decided to take quicker action. Dan and Jill were both tested; both their livers were healthy. But Jill had just become pregnant.
Dan would give part of his liver to Miles. He said that was always an option instead of waiting on the transplant list, but doctors discouraged that course until October.
"They don't like to cut into a healthy body if they don't have to," Dan Blomgren said. "They didn't want to wait any longer and see (Miles') health fail."
Still, as doctors began to make preparations for the surgery, they questioned Dan to make sure he wanted to undergo the procedure.
"My answer was quite simple. I asked the doctor, 'Are you a father?' He said yes. It was a done deal."
Dan Blomgren, on being questioned about his willingness to donate part of his liver to his son
"My answer was quite simple," he said. "I asked the doctor, 'Are you a father?' He said yes.
"It was a done deal."
On Nov. 8, doctors removed the left lobe of Dan Blomgren's liver while another team at a hospital across Chicago removed Miles' unhealthy organ. The surgeries took most of the day, but were successful: Miles left the hospital just nine days later, a quick recovery time.
Two months later, the recovery isn't quite complete. Miles' bones were brittle from his liver disease; earlier this month he fell down and broke his leg.
But the Blomgrens are optimistic. Vitamin doses will strengthen Miles' bones, they say, and other drugs will help keep his body from rejecting the new liver. The boy is rapidly growing in height and weight to join others his age for the first time.
The disease progressive familiar intrahepatic cholestasis is inherited. The Blomgrens' next child, due in late May, stands a 25 percent chance of having the same illness. But the family said they now know the signs of disease and may be able to combat it in time to prevent the need for a transplant.
"We love kids so much," Jill Blomgren said. "The benefits we've had from Miles completely outweighs the tough times. But we definitely gave it a thought before deciding to have another."
And they count some of the tough times as blessings. Dan Blomgren was severely injured in a September 1999 car wreck and doctors told him not to drink alcohol for a year. The result, he said, was that his liver was pristine when the time for transplant arrived.
It's just one of the blessings the Blomgrens celebrate with their newly healthy son.
"He's going to grow up to be a normal kid," Dan Blomgren said. "He'll just have a scar for show-and-tell."
Copyright 2018 The Lawrence Journal-World. All rights reserved. This material may not be published, broadcast, rewritten or redistributed. We strive to uphold our values for every story published.