LUBBOCK, TEX. — Not a single Texas Tech basketball fan was holding a placard displaying a big D and a picket fence on Saturday night. Dee-fense, dee-fense, dee-fense.
What defense?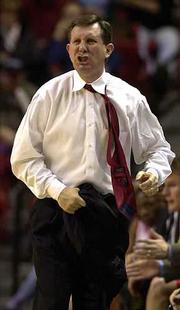 "Our defense was non-existent in the second half," Tech coach James Dickey said following the Red Raiders' 94-82 loss to Kansas at the United Spirit Arena. "Fifty-two points is unacceptable."
Kansas scored those 52 second-half points by shooting nearly 57 percent (21 of 37) from the field.
"They're averaging 84 points a game and they get 94 on our home floor," Dickey continued. "That's no defense. I'm not taking anything away from Kansas, but that's no defense."
Texas Tech (6-6) jumped to 4-0 lead, then fell behind 9-7 and never led again, although it did close to within a point several times before the Jayhawks dropped a 12-0 anvil on the Red Raiders in the second half.
"Our effort was good," Dickey said. "We did not play the way you need to play against a top 10 team to win, however. I loved our intensity level, but we did not play smart."
Center Andy Ellis, who scored 19 points two over his average, realized the Raiders played well only in spurts.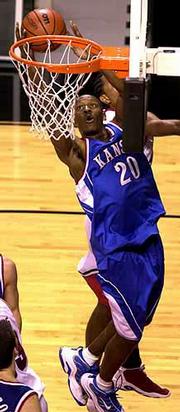 "It's all mental," said Ellis, a 6-foot-11 junior. "We just have lapses. If we can do what we're supposed to do and carry it out for 40 minutes we'll be pretty good."
At the same time, if the Raiders play with the intensity they did against Kansas they'll defeat some teams they're not supposed to beat.
"I've been voting Kansas in the top 5 all year," Dickey said. "They have a chance to play for the national title.
"You look at their stats and the only thing Roy would probably like for them to do better is shoot free throws. That's about the only thing they don't do well."
Someone asked Dickey if he was happy the Raiders had played the Jayhawks to within a dozen points.
"I'm not interested in any moral victories," Dickey said, raising his voice. "I am not happy we played them that close. I'm not happy unless we win."
Copyright 2018 The Lawrence Journal-World. All rights reserved. This material may not be published, broadcast, rewritten or redistributed. We strive to uphold our values for every story published.