New York — Want fashion advice? Look to the stars.
Not the Hollywood stars who do the red-carpet runway show, but the stars above as in the zodiac.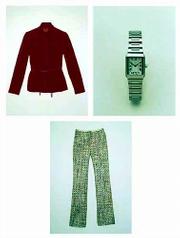 "People use astrology to examine their soul, but there is a very physical aspect to it," says Greg Polkosnik, author of the new book "Cosmically Chic" (Andrews McMeel Publishing).
"Make the connection from your spirituality to your body."
Polkosnik sees fashion as an ideal target for astrological influences.
Libras, for instance, are supposed to crave balance and harmony, and feel content in the presence of beauty. Polkosnik has interpreted that to mean that Libras should only wear intense colors in a monochromatic or tone-on-tone scheme.
"The balanced look that defines a well-dressed Libra woman cannot be achieved by wearing blocks of color or high-contrast color combinations," according to the book.
A Capricorn, who is known for her wry wit and subtle sexuality, can express those traits by leaving an extra button open on a blouse or wearing a skirt with a slit that's just a little too high, says Polkosnik, speaking by phone from his home in Alberta, Canada. For the record, he is a Capricorn.
Looking at the cliches
To come up with his fashion analyses, Polkosnik says he took the cliches of each astrological sign and translated them into clothing styles and trends that would complement each sign's personality.
"Certain cliches exist about each sign for a reason. If there never was a bullheaded Taurus or a crabby Cancer, these cliches wouldn't endure."
Polkosnik's guidelines aim to make the most of each sign's assets. In the book, he offers a single keyword to sum up the style for each sign, three rules to dress by, specifics on what to wear, a designer who best represents the sign's look, advice on what to avoid and a list of celebrities who "for better or worse" exemplify the sign's true style.
"This book is not about how you do dress, it's about how you should dress," Polkosnik explains.
Leos, the flashiest sign, can get the attention they crave by dressing in clothes with a lot of drama, he says, while the typically aggressive Aries gets noticed by wearing a bright red pants suit.
The trendsetters of the zodiac are the Geminis, who gravitate toward youthful styles that go in and out of fashion from season to season, and the Sagittariuses, who can find styles that have been hovering below the fashion radar screens and bring them to the attention of the world.
---
MORE: www.cosmicallychic.com/
Copyright 2018 The Associated Press. All rights reserved. This material may not be published, broadcast, rewritten or redistributed. We strive to uphold our values for every story published.