Washington — President Clinton paid a private courtesy call Saturday on Washington's newly arrived Chinese pandas, marveling over their boundless appetites and watching them scramble up the snow-covered rocks of their chilly outdoor enclosure.
"They're beautiful and they're different and I think they're fascinating," Clinton said. He predicted that Tian Tian and Mei Xiang will be an instant hit with visitors to the National Zoo when the pandas make their public debut Wednesday.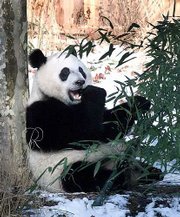 The pandas are still in quarantine after their journey last month from a reserve in China's Sichuan Province. The president, daughter Chelsea, and two nephews put on light-blue protective booties over their shoes before they toured the renovated Panda House.
Clinton peppered the zoo's director, Lucy Spellman, with questions about the pandas and their habits, and expressed special interest in their diet and appetites.
"Look at that! Wow!" Clinton exclaimed as the pandas rollicked behind plate glass in their indoor quarters, zestfully eating bamboo and carrots.
Inspecting the outdoor enclosure Clinton showed off some of the information he had just learned about the pandas.
"They eat 40 pounds a day of bamboo and carrots," he said. "He weighs 214 pounds," Clinton said, pointing to the male panda, Tian Tian whose name translates as "more and more."
"And she weighs 240 pounds and something," he continued, pointing at the female, Mei Xiang, whose Chinese name means "beautiful fragrance."
"We'd all be obese in a minute if we ate 40 pounds of food a day," Clinton said.
Then he turned to his young companions Tyler Clinton, 6, son of Roger Clinton, the president's brother, and Zack Rodham, 5, son of brother-in-law Tony Rodham.
"Boys, do you want to go see the apes and elephants?" he asked. The party trooped off to the elephant house next door.
Copyright 2018 The Associated Press. All rights reserved. This material may not be published, broadcast, rewritten or redistributed. We strive to uphold our values for every story published.