Crawford, Tex. — George W. Bush gave a tour of his ranch Saturday to some of his most powerful supporters and lobbyists: Republican governors.
The president-elect said the governors can help him win congressional approval for plans to cut taxes and improve education. In return, Bush said, he will try to free the states from as much federal regulation as possible.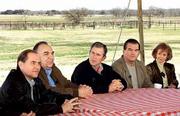 "I realize there's a role for the federal government, but it's not to impose its will on the states and local communities," Bush said shortly before a barbecue lunch. "It's to empower states and people and local communities to be able to realize their vast potentials."
Aides said that is particularly true in education, which is expected to be the Bush administration's first major pitch to Congress.
"I asked the governors to help me work with members on both sides of the aisle to pass an education reform package that will include more flexibility for states," Bush said.
He said governors can also help lobby Congress on another priority, tax cuts. Bush said that he and the governors discussed the "warning signs in the economy" and his plans for what he called an "economic recovery package."
"Tax relief will provide more money for working Americans so they can handle their own cash-flow needs," Bush said. "Many Americans have got debts. We want those Americans to be able to pay off that debt. A good way to do so would be to give some of their own money back."
The lunch and ranch tour also signaled a thank-you to the governors, some of Bush's earliest supporters in his race for the presidency. The event was thus confined to Republicans, aides said.
The guests included John Engler of Michigan and Tom Ridge of Pennsylvania. Rick Perry, the president-elect's successor as governor of Texas, also showed up. Not in attendance: Florida Gov. Jeb Bush, the president-elect's brother.
While governors can be helpful, some political analysts said there are limits to their influence. They pointed out that Bush lost Michigan and Pennsylvania to Al Gore in the presidential election and carried Florida only after a protracted legal battle.
"When you win by the margin he won by, you have to build bridges in all directions," political analyst Charles Cook said. "They (the governors) are pieces of the puzzle."
The governors said they are in a better position than Washington officials to assess problems and figure out the best ways to deal with them. Some, for example, complained about new environmental controls from the Clinton administration, such as a plan announced Friday to put more than 58 million acres of national forest land off limits to road-building and logging.
"Without command and control from Washington, D.C., we can do great things," Idaho Gov. Dirk Kempthorne said.
Bush will be the fourth president of the last five to have served as a governor. The exception is his father.
"It's not surprising that our country tends to elect governors to be presidents," Bush said. "The governors come from the people."
As Bush huddled with the Republican governors, Congress formally recorded his narrow victory in the Electoral College.
"I guess I better go write my inaugural speech," Bush joked.
Copyright 2018 The Lawrence Journal-World. All rights reserved. This material may not be published, broadcast, rewritten or redistributed. We strive to uphold our values for every story published.