Maybe this will be the year.
The Rev. William Dulin certainly hopes so.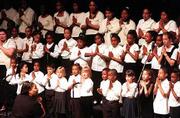 Dulin would love to see 2001 the first year of the 21st century be the year that turnout for the annual Martin Luther King Jr. Day celebration in Lawrence meets his expectations.
"I'm happy to see participation in this event continue to grow, but it can always be a lot better," says Dulin, pastor of Calvary Church of God in Christ, 646 Ala.
Dulin also is president of Ecumenical Fellowship Inc., an association of eight predominantly African-American churches in town that have been the primary sponsors for Martin Luther King Jr. Day activities in Lawrence since 1986.
"If we can fill Allen Fieldhouse for a basketball game, why can't we fill the Lied Center just for an hour to hear a message that will benefit us for the whole year?" Dulin says.
The 16th annual Martin Luther King Jr. Day celebration for Lawrence and Douglas County will be Thursday through Jan. 15.
Don't get him wrong he and his wife, Pauline, are big Jayhawk fans. But the pastor figures the events to commemorate the slain civil rights leader might be even a little more important than a KU ball game.
Dulin says the values King lived and died for should be held dearly by people of all backgrounds in Lawrence. And that should translate to a good turnout for all the scheduled King activities.
"If you've never attended the celebration, you're missing an important event in the community. I would say if you're concerned with justice and equality, this would be a good opportunity to learn," Dulin says. "It's more than just a time of coming together. We hope it's a time of learning, too. There are problems, and we have to continually remind people of the civil rights struggle. This is the first major celebration of the year, and we hope it will set the tone for the rest of 2001."
Hemenway to speak
The theme of this year's celebration is "Focusing Clearly in the New Millennium."
The MLK Planning Committee made up of a group of community leaders and the pastors of the Ecumenical Fellowship arrange the celebration each year.
Sponsors for the events include Kansas University; Haskell Indian Nations University; the city of Lawrence; Douglas County; the Douglas County Historical Society; and Lawrence public schools.
The celebration starts Thursday with an educational program featuring a reception, art display and student music performances.
The reception and art exhibit will be from 5 p.m. to 7 p.m. in Stidham Student Union at Haskell Indian Nations University. A student program of poems and essays written about King and a recognition ceremony will start at 7 p.m. in Haskell's Hiawatha Auditorium.
Haskell's Thunderbird Theatre will present an American Indian theatrical performance.
The King celebration's annual banquet will be held at 6:30 p.m. Saturday in the Kansas Union Ballroom at KU. KU Chancellor Robert Hemenway will give the keynote speech.
Tickets for the dinner and program cost $20 for adults and $10 for children and students. The cost to attend the program only is $10 for adults and no charge for children and students.
Tickets are available at Christian Book & Gift, 2108 W. 27th St.; Watkins Community Museum of History, 1047 Mass.; and KU's Office of Multicultural Affairs, 145 Strong Hall.
Tickets can also be purchased by calling Dulin, 843-8913, or the Rev. Leo Barbee of Victory Bible Church, 843-3437 or 749-0835.
Righteousness, unity
The Martin Luther King community worship service will be held at 10:30 a.m. Jan. 14 at Victory Bible Church. The Rev. Cedric Britt, pastor of Mount Gilead Baptist Church in Fort Worth, Tex., will be the speaker.
The annual gospel musical, under the direction of Anthony Jones of Topeka, will be held at 6:30 p.m. Jan. 14 at Free Methodist Church, 3001 Lawrence Ave.
It will feature youth and adult choirs made up of community members, guest soloists and other performers. Participation in the choirs is open to anyone. For the times of choir practices, call Free Methodist Church, 842-2460; Anita Martin, 842-2460; or Pauline Dulin, 843-8913.
The Martin Luther King Jr. Day celebration will conclude with a commemorative service at 11:15 a.m. Jan. 15 at the Lied Center. The service will feature the youth and adult choirs, speakers and a keynote speech by Britt.
Officials and representatives of the city, county, state, KU, Haskell and Lawrence public schools will participate.
The city's clergy will gather at 11 a.m. in the Green Room at the Lied Center to form a processional into the auditorium.
Dulin whose great grandmother was a child during the time of slavery says the King Day celebrations will stress three values: righteousness, education and unity.
"Every community needs a foundation of righteousness if it's going to be healthy," he says.
Copyright 2018 The Lawrence Journal-World. All rights reserved. This material may not be published, broadcast, rewritten or redistributed. We strive to uphold our values for every story published.