San Francisco — The SplashZone, a normally tranquil children's section at the Monterey Bay Aquarium, has become the scene of underwater carnage at the claws of a killer shrimp.
Prized sea snails, barnacles and hermit crabs have been reduced to piles of broken shells by the lightning-quick claws of a single mantis shrimp a voracious, salt-water scourge that for months has eluded captors and reduced a coral reef exhibit to a killing field.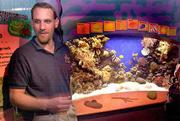 Two of the nonnative shrimp invaded the 1,300-gallon tank in April, probably after burrowing into a shipment of display rocks shipped from Florida. The tank's volume is similar to that of a large hot tub.
A nimble worker snared one shrimp in November with a pair of long tongs. His 4-inch-long accomplice is still on the loose.
"When you're working near the exhibit you can hear the pop when he's going after the barnacles," senior aquarist David Cripe said.
The shrimp commonly called "thumb-splitters" for the ability to do just that is too small to kill fish. But the critter is taking out small bottom-dwellers by the dozen in the tank.
Catching the loose shrimp has proven difficult.
Fish that eat the shrimp could be introduced to the display to reduce the tiny terror to a food-chain casualty. But the natural foes would also eat the hermit crabs and snails that are part of the exhibit.
"The solutions become problems," Cripe said.
So far the aquarium has shied away from using box traps, specially designed to capture mantis shrimp.
"They're worried about them that they'll kill their fish," says Marc Desatnik, owner of North Coast Marines in Solon, Ohio.
For now however, woe to any SplashZone crustacean smaller than the mantis shrimp.
Some have specialized smashing claws to bludgeon small crabs and whack barnacles on the back until they loosen their grip on a rock.
"They're real smart," said Aquarium Concepts store manager Marcos Figueroa, who is careful not to try to grab the shrimp by hand. "And they'll leave a mark."
---
MORE: www.mbayaq.org/efc/ efc_se/se_sz.asp
Copyright 2018 The Associated Press. All rights reserved. This material may not be published, broadcast, rewritten or redistributed. We strive to uphold our values for every story published.