Jerusalem — President Clinton has given up on trying to conclude an Israeli-Palestinian peace deal before he leaves office Jan. 20, Israeli and Palestinian officials said Friday.
Instead, the president has lowered his sights and is working on just getting the parties back to the bargaining table in an effort to prevent the 3-month-old spasm of violence from escalating out of control.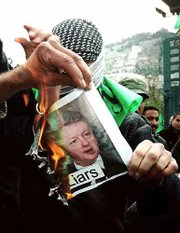 "It appears that it will not be possible (to reach an accord), not in the short term at least," said a senior Israeli official, who spoke on condition of anonymity. "There is a feeling of 'let's pass on to the next administration a work in progress, a mechanism that is operational and not a mess.'"
"I think there is definitely a lowering of expectations simply because there is not enough time," said Edward Abington, a former U.S. consul general in Jerusalem, now a consultant to the Palestinians. "They are trying to avoid a collapse of the peace process."
It may be difficult, however, just to sustain the progress Clinton has made toward ending the conflict between Israelis and Palestinians. President-elect George W. Bush's advisers are reluctant to plunge into negotiations without some assurances that both sides are prepared to reach and agreement; Israelis and Palestinians are backing away from some key concessions; and hard-line opposition leader Ariel Sharon appears poised to oust Israeli Prime Minister Ehud Barak in the February election.
The crux of Clinton's proposal is that Israelis and the Palestinians share sovereignty over the Haram al Sharif/Temple Mount, which both peoples consider holy. In return, Palestinian leader Yasser Arafat would compromise on his demand that Israel acknowledge the right of Palestinian refugees to return to their former homes in what is now Israel.
Arafat said this week that he views Clinton's proposals favorably but would never give up his demand for the right of return for refugees and sovereignty over the holy plateau.
And in Israel on Friday, Barak said Israeli negotiator Gilad Sher took two messages to Washington this week.
"First, the violence must stop. Period," Barak said. "Second, there will be no right of return and the Temple Mount, the core of our identity, the Western Wall, will be in our hands under our sovereignty."
Palestinian negotiator Saeb Erekat also was to meet U.S. officials in Washington on Friday, but Sher was under strict instructions not to talk to him. Barak refuses to resume direct talks with the Palestinians until Arafat fulfills his pledge to Clinton earlier this week to publicly call off shooting attacks and to rearrest Islamic activists who recently were released and are suspected of planning terror attacks against Israelis.
Copyright 2018 The Lawrence Journal-World. All rights reserved. This material may not be published, broadcast, rewritten or redistributed. We strive to uphold our values for every story published.