Public projects fueled the city's most lucrative building year ever.
The city issued building permits for $175 million in construction during 2000, up 4.5 percent from the previous record of $167.5 million in 1996, according to a report released Friday at city hall.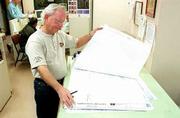 The total permit valuation was up $25.3 million, or 16.9 percent, from $149.7 million in 1999.
The city's biggest construction project a $38 million expansion of the city's wastewater treatment plant topped a list of large public projects launched during 2000, including construction of a downtown parking garage, a new Lawrence Arts Center and additions to Lawrence public schools.
"For the last two years city or city-related projects were the driving factor in the valuation increase," said Gene Shaughnessy, the city's chief building inspector. "It's the infrastructure for growth or because of growth, depending on how you look at it. The infrastructure drives the growth or the growth drives the infrastructure. It's kind of the chicken and the egg."
The past five years of construction have been strong ones for Lawrence, Shaughnessy said.
In 1998, big retail and industrial projects were the driving forces, along with a healthy dose of home building. In 1996, a rush of apartments about 1,000 units and other multifamily construction pushed the totals to a record for the time.
The apartment push could hit once again early this year.
A $13.1 million permit is pending for University Village, a student-oriented apartment complex to be built southwest of Clinton Parkway and Crossgate Drive. Also on the drawing board: Parkway Commons, southwest of Clinton Parkway and Kasold Drive; and The Exchange at Lawrence, south of 31st Street and west of Louisiana Street.
"It could be the driving factor," Shaughnessy said.
Inspectors closed out 2000 by writing permits for $7 million worth of construction in December, adding to the record total tallied through November.
December's biggest permits went to B.A. Green Construction Co., which took out two $1.425 million permits for office buildings northeast of Peterson Road and Kasold Drive.
The city issued six permits in December for new single-family homes. That brought the year's total to 305, the lowest yearly level since 261 were issued in 1990. The city had issued 392 single-family permits in 1999.
Copyright 2018 The Lawrence Journal-World. All rights reserved. This material may not be published, broadcast, rewritten or redistributed. We strive to uphold our values for every story published.