Some plants, a fish, but no Jimmy Hoffa at least, not this time.
Thursday afternoon, the Douglas County Sheriff's Department Underwater Search and Recovery Unit took a practice dive beneath the ice, scouring the bottom of frozen Lake Hutton at the Kansas University west campus.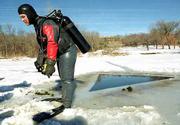 It was the first ice-diving rehearsal since 1996, the last year with substantial freezing, said Mik Shanks, team leader. Such practice would be useful if a skater were to fall through ice or if a car sank in a frozen pond.
Recovery diving is never easy, but it's especially tricky in the winter, Shanks said.
"It's totally different," he said. "We have to slow operations down quite a bit. Equipment can freeze. Helpers on the surface can fall through."
Shanks was the first of four divers to go beneath the 7-inch crust of ice on Lake Hutton. He wore two pairs of thermal long johns under his red scuba dry suit.
Still, he said, the water was pretty chilly.
"It has to be warmer than 32 degrees, or it would be solid ice," he said. "But it's not that much warmer."
He said the underwater visibility was about 10 feet, unusually good for this time of year.
The unit is financed and organized by the Douglas County Sheriff's Department.
The 16-team members include officers from the sheriff's office, Lawrence Police Department, KU Public Safety Office and Lawrence-Douglas County Fire & Medical.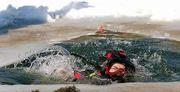 Ice-diving is one of many complicated scenarios the unit prepares for, said Capt. Bill Shepard, the team coordinator. They also learn search patterns for dives with zero visibility and how to untangle themselves from weeds.
"It's nice to know what you're doing," Shepard said. "We train in every scenario we can think of."
Divers on the unit train for about a week at Dive Rescue International in Boulder, Colo., Shanks said.
Each diver must receive Dive Rescue I certification for public service diving.
Shanks said no diver on his team had ever been injured in practice or on the job.
He credits Sheriff Loren Anderson for providing safe equipment and training.
"He brought this team from a couple of guys with old antique suits and equipment to a very top-of-the-line, well-organized team," Shanks said. "He has supported the team, and brought it into the (21st) century."
Copyright 2018 The Lawrence Journal-World. All rights reserved. This material may not be published, broadcast, rewritten or redistributed. We strive to uphold our values for every story published.