Washington — Sticking with Clinton appointees, President-elect Bush wants FBI Director Louis Freeh to finish the last two years of his term and sought a brief extension for CIA Director George Tenet, advisers said Thursday.
His Cabinet complete, Bush broadened his focus Thursday to sub-Cabinet and senior White House positions by nominating campaign manager Joe Allbaugh to head the Federal Emergency Management Agency.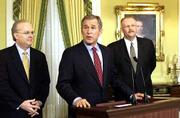 In the same Texas ceremony, campaign strategist Karl Rove was appointed Bush's senior adviser and given control over the offices of political affairs, public liaison and strategic initiatives an unusually broad portfolio.
Allbaugh, 48, and Rove, 50, combined with spokeswoman Karen Hughes to form Bush's loyal "Iron Triangle" that guided him to the presidency. Hughes, 44, was named presidential counselor shortly after the election.
"The triangle has been completed," Bush said.
Freeh is in the eighth year of a 10-year term given to him by President Clinton, but the two have often clashed; Bush advisers have told Freeh they want him to stay. The CIA director, though not a permanent fixture in the Cabinet, is nonetheless an important part of a president's foreign policy team.
A friend who has spoken to Tenet in the last few days cast doubt on the idea of his joining the Bush administration.
Several Democrats and Republicans have urged Bush to retain Tenet in an effort to take the spy agency out of the political cycle. Bush's father, former President Bush, once headed the CIA and has called for a less-political approach.
The president-elect already has dipped into Clinton's administration, nominating Commerce Secretary Norman Mineta to be his transportation secretary.
A senior Bush adviser said the president-elect planned to request that Tenet stay aboard in the short term while the incoming national security team assesses America's foreign policy needs and the CIA's role. Tenet would not be auditioning for a long-term appointment but rather would be a placeholder, said the official, speaking on condition of anonymity.
Republican Rep. Porter Goss, a former CIA agent and current chairman of the House Select Intelligence Committee, said he advised Bush to take his time finding a new director for the spy agency. He said the Clinton administration lacked national security focus, which stopped the CIA from defining its capability and Tenet would be good in covering until that focus is found.
"Tenet provides some very good continuity, has done some very good things in the intelligence community," said Goss, himself a prospect for the CIA job.
At the FBI, Freeh, who clashed frequently with Clinton, has two years remaining on a 10-year term and was asked to remain on the job under Bush.
"We don't expect people to leave until their terms expire," spokesman Ari Fleischer said. "He's staying."
As for Bush's inner circle, Hughes stood behind the cameras in Austin on Thursday as she, Bush, Allbaugh and Rove struggled to contain their emotions.
"He is one of the reasons I was elected governor and one of the reasons I was elected president," Bush said of Rove. "He will bring good judgment, good humor and good advice to the White House."
He called Allbaugh a "loyal and strong friend."
If confirmed by the Senate, Allbaugh will replace James Lee Witt, a close ally of Clinton credited with reviving the agency.
FEMA is best known as the agency that provides emergency assistance after floods, earthquakes, hurricanes and tornadoes. It also administers the National Flood Insurance Program and Project Impact, an effort to develop storm and flood-resistant communities.
Copyright 2018 The Associated Press. All rights reserved. This material may not be published, broadcast, rewritten or redistributed. We strive to uphold our values for every story published.