Children's programs in Douglas County will soon reap the benefits of the state's $1.6 billion settlement with the nation's tobacco companies.
By week's end, the Success By 6 Coalition within the Lawrence Partnership for Children and Youth will receive the first installment of a $192,778 grant from the Kansas Children's Cabinet.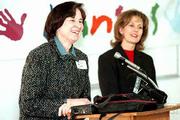 "The check is in the mail," said Joyce Cussimanio, executive director of Kansas Children's Cabinet, the 15-member board that administers the tobacco settlement fund on behalf of the Kansas Legislature.
The Success By 6 Coalition also will receive $28,000 in matching funds from the Douglas County Community Foundation ($23,000) and the local United Way Venture Fund ($5,000).
Plans call for most of the money being spent in three areas:
l Day care Create additional openings in area day care programs for infants and toddlers, provide additional child-care training, help programs buy needed equipment; $52,858.
l Hands-on counseling Provide in-home counseling for parents having trouble coping with or caring for young children; $101,499.
The fund will underwrite counselor positions at Community Living Opportunities, Bert Nash Mental Health Center, and the Child and Family Clinic at Kansas University.
l Project Director Hire a project coordinator to explore ways for existing programs to close gaps in services for needy children, expand training; $66,421, which also will cover accounting and travel costs.
"I think we have put together a really nice package," said Nancy Jorn, a spokeswoman for the coalition.
For the one-year grant to be renewed, the coalition must prove its success.
Jorn said the coalition will soon count the number of openings for infants and toddlers in area day-care centers. A similar count will be taken a year from now.
If there's an increase, she said, the effort will be judged a success. Criteria are being developed for measuring the success of the in-home counseling effort.
Jorn and others said the chronic shortage of day care openings for infants and toddler is a serious problem for working families.
"Right now, if somebody called looking for nighttime child care, I'd be lucky if I could come up with one," said Sandy Blair, executive director of the Douglas County Child Development Assn.
"If they're looking for someone who'll take an infant-toddler, I might be able to come up with five names. But that doesn't mean there's an opening," Blair said, "it just means they're willing."
Douglas County was one of seven Kansas cities or groups of rural counties to divide $2.75 million. Each of the grants is aimed at starting or expanding services affecting children between birth and 6 years old.
"By spending the money this way, we are creating a tremendous asset for the state," Cussimanio said. "Research has shown that for every dollar spent on early childhood development generates a return worth $7.16."
Of the seven grants, Douglas County's was the smallest.
Kansas is expected to receive $1.6 billion in tobacco settlement revenues over the next 25 years.
Copyright 2018 The Lawrence Journal-World. All rights reserved. This material may not be published, broadcast, rewritten or redistributed. We strive to uphold our values for every story published.