Miami — Moments after losing the Heisman Trophy, Josh Heupel shrugged and delivered a simple message to Oklahoma fans smile and get ready for an Orange Bowl victory.
The wait is over.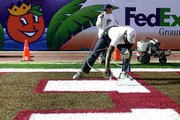 Heupel, a close second to Chris Weinke in the Heisman race, gets a final chance to upstage his rival when he leads No. 1 Oklahoma against No. 3 Florida State in the Orange Bowl at Pro Player Stadium tonight.
But there are other important issues, too.
"This is not about a head-to-head competition," Heupel said. "It's about our team playing for the national championship."
If the 12-point underdog Sooners win, there's no debate. They would be the only undefeated team and surely would be undisputed champions when the polls close early Thursday morning.
If the defending champion Seminoles win, however, they'd only be guaranteed at least a share of the title. That's because of Miami (10-1), a team that could cause more poll confusion in the Sunshine State.
The second-ranked Hurricanes, which defeated Florida State 27-24 on Oct. 7, needed to beat Florida in the Sugar Bowl on Tuesday night to have a chance to stake a claim to part of the national championship.
Weinke isn't worried about all of that. Oklahoma is the only thing on his mind.
"We're focused and ready to play," the 28-year-old quarterback said. "No one has found a way to beat them this year. That is our goal."
The Seminoles (11-1) are playing for their third national title, the Sooners their seventh. The difference is Oklahoma is looking to win its first championship in 15 years, while Florida State won in '93 and '99 and is on a record 14-year run of top 4 finishes in The Associated Press poll.
Who: Oklahoma vs. Florida State.When: 7 tonight.Television: Channels 9, 49.
"We've always told our players, 'You're the only team living in a dynasty,'" Florida State coach Bobby Bowden said Tuesday. "'Bama was in a dynasty, Notre Dame was in a dynasty, Miami was in a dynasty, so-and-so was in a dynasty. ... We hope we keep it alive."
Oklahoma is ready, though.
"Our players understand we already have six national championships," Sooners coach Bob Stoops said. "So this is not a school not used to winning."
Oklahoma (12-0) completed its perfect regular season with a 27-24 victory over Kansas State in the Big 12 championship on Dec. 2, while the Seminoles haven't played since beating Florida 30-7 on Nov. 18.
"It just gives us more time to put in a new wrinkle or two," Bowden said.
Weinke threw for 4,167 yards and 33 touchdowns, but he'll have to find a new go-to receiver to replace All-American Snoop Minnis, who is academically ineligible. Minnis caught 63 passes for 1,340 yards and 11 TDs.
"We'll just move somebody else there and play with the same plays," Bowden said. "This just opens the door for somebody else to be a hero."
The candidates include Atrews Bell, Anquan Boldin, Robert Morgan and Javon Walker. Travis Minor ran for 923 yards and five touchdowns behind a massive offensive line averaging 315 pounds.
As for Heupel, he threw for 3,392 yards and 20 TDs, and ran for seven scores. The lefty also has a top-notch group of receivers, including Antwone Savage and Curtis Fagan. Quentin Griffin, 5-foot-6, 183 pounds, ran for 783 yards and 16 touchdowns.
"From what I've seen, they're a big-play offense," Florida State cornerback Tay Cody said. "Heupel is a great quarterback, a guy who has made great decisions. It's going to be a challenge."
The Seminoles averaged 42.4 points and 549 yards and outscored opponents by 32.1 points. The Sooners put up 39 points and 429.2 yards a game and outscored opponents by 23.2.
"You better be able to play defense in this one," Bowden said. "When you got a quarterback like we got and a quarterback like they got, a running back like we got and a running back like they got, receivers like we got and receivers like they got, you say, 'Hold it.' It's which defense can corral the other's offense better."
On defense, each team has an All-American linebacker Rocky Calmus for the Sooners, defensive end Jamal Reynolds for the Seminoles. Florida State allowed 10.3 points a game, Oklahoma 15.8 points.
Experience could be a factor, too.
Florida State is playing in its third straight Bowl Championship Series title game, whose winner is automatically crowned the national champion in the coaches' poll but not necessarily in the AP poll. Oklahoma is in a national championship game for the first time since losing to Miami in the 1988 Orange Bowl.
"That won't have any effect," Sooners defensive back J.T. Thatcher said. "We've played in a lot of big games this season, and we've been in bowls a lot."
Oklahoma will play in a record 17th Orange Bowl but its first at Pro Player Stadium. The Sooners are 11-5, including wins over the Seminoles in the 1980 and '81 games. Florida State is 3-2 in Orange Bowls.
Asked if he thought Oklahoma assistant Steve Spurrier Jr. might have sought advice from his father, Gators coach Steve Spurrier, on how to beat the Seminoles, Bowden produced his best line of the week.
"Not if they want to win," he said.
Copyright 2018 The Associated Press. All rights reserved. This material may not be published, broadcast, rewritten or redistributed. We strive to uphold our values for every story published.