Editor's note: This is one in a series of articles about new varieties of flower and vegetables that will available this spring.
---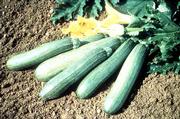 What would a sunny garden be without those cheery little flowers that we call petunias?
With more than 40 species of petunias to choose from and with growth habits that range from erect to spreading, gardeners generally have no trouble finding a spot for these carefree annuals in their garden.
The plant's sticky-haired foliage and distinct perfume blend with its wispy flowers to brighten most garden spots.
Petunias are divided into two groups grandiflora and multiflora. The grandiflora petunias have large flowers, typically about 4 inches across. The downside to their spectacular flower size is their susceptibility to rain damage. Therefore, grandiflora petunias do best in places that offer protection from the elements, like baskets hanging under the eaves of a porch.
On the other hand, the multiflora petunias have flowers with a smaller size than grandifloras yet, they are much more numerous. Multiflora petunia plants are bushy and more tolerant of wet weather.
This year the National Garden Bureau introduces us to three varieties of petunias that are new for 2001. Kahuna White is the first white spreading petunia from seed. Its deep green foliage is set off brilliantly by an abundance of large luminous white flowers.
Kahuna White is a slightly upright plant that reaches a height of 12 to 24 inches and a wonderful spread up to 3 1/2 feet. Its glorious spread with magnificent color makes it perfect for the sunny flower border, hanging basket or cascading around garden steps.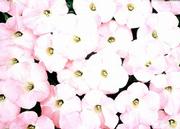 Petunia Summer Sunrise produces large sunny yellow flowers blushed with a touch of pink that reflects the beauty of a summer morning. Summer Sunrise is a grandiflora that blooms continually, making it ideal for creating spectacular garden beds and dazzling containers.
For one of the softest colors in a petunia, consider Avalanche Salmon Shades. This is Bodger's first spreading hybrid petunia. It grows to a height of 8 inches.
The Avalanche varieties have a terrific plant habit that holds up better under wet weather. They also have a tighter plant habit than other varieties. Other new Avalanche colors include lilac, pink and red.
Inviting vinca
A sun lover that is perfect for Kansas summers is vinca Heatwave Blue with Eye. The early flowering Heatwave plants have a beautiful, mounding garden habit that has been praised in garden trials across the United States. The plant reaches a height of 15 inches.
Heatwave varieties are available in lilac/blue, cherry and raspberry. All three have white eyes.
For the gardener who wants a conversation piece in the flower garden, try ornamental peppers. Novartis offers three new Explosive varieties that are ideal for the pot or landscape.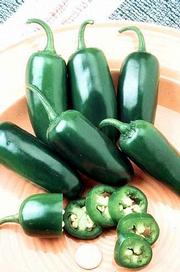 Explosive Ember offers deep-purple foliage and flowers with conical fruits that mature from purple to deep red. Ignite offers a prostrate, spreading habit with long, narrow fruits maturing from ivory to yellow-green to bright orange-red.
Lastly, Blast is a compact plant with clusters of conical fruit on the top of the plant maturing from yellow-green to red.
Peppers and squash
For the gardener who wants to grow edible peppers that play with your taste buds, the National Garden Bureau suggests Fooled You. Just when you've braced for another hot pepper, Fooled You, a hybrid pepper, turns out to be nonpungent while retaining its great taste.
This fruit looks like normal jalapenos except that it is larger, measuring more than 3 inches long. The plant grows to about 27 inches in height.
And what would the Kansas vegetable garden be without squash? In fact, what would any vegetable garden be without squash? Tigress is an early maturing hybrid with smooth, medium green fruit that closely resembles the very popular zucchini Elite. With a tolerance to Zucchini Yellows Mosaic and Watermelon Mosaic II Virus, Squash Tigress will yield late in the season and fill your gathering basket with bounty.
Next week, we'll finish our look at new flower and vegetable varieties for 2001.
---
Carol Boncella is education coordinator at Lawrence Memorial Hospital and garden writer for the Journal-World.
Copyright 2018 The Lawrence Journal-World. All rights reserved. This material may not be published, broadcast, rewritten or redistributed. We strive to uphold our values for every story published.