The phone call Shamikah Turner had been waiting for came about 6 a.m. Friday.
Lawrence Police told Turner that her sons Chauncey Oatis, 2, and James Barbee, 4 months, were safe. Turner could come and pick them up at the Police Department.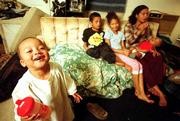 "I was so happy and we were all jumping up and down," Turner, 25, said a few hours later, from the Lawrence home of a friend. "It was very painful to be without my kids. I got my kids back now, and that's the important thing."
Late Friday, the girl accused of kidnapping the boys and driving them to Kansas City, Mo., remained in the custody of the Family Court Division of the Circuit Court of Jackson County, Mo.
The Douglas County District Attorney's Office was awaiting word on when Natasha Helm, 17, Lawrence, would be returned to face kidnapping charges.
Helm faces two counts each of kidnapping and endangering a child. Dist. Atty. Christine Kenney Tonkovich said late Friday that she had not been told when the extradition hearing for Helm would be conducted.
If Helm fights extradition, it could be a matter of weeks before she returns, Tonkovich said. If extradition is waived, Douglas County Sheriff's Officers could go get Helm immediately, Tonkovich said.
"We will obviously do what we can to get her back here as soon as possible," Tonkovich said.
Juvenile officers with Jackson County would only confirm that Helm was in custody, and referred all other questions to Tonkovich.
Search ends in K.C.
Lawrence Police were notified about 10:40 p.m. Thursday by police in Kansas City, Mo., that Helm had been arrested and 4-month-old James Barbee had been found.
Lawrence Police were notified about 10:40 p.m. Thursday by police in Kansas City, Mo., that Helm had been arrested and 4-month-old James Barbee had been found.
Kansas City Police, as well as other law enforcement agencies, had been notified by Lawrence and the Kansas Bureau of Investigation to watch for Helm and the Ford Aerostar van she was driving. Kansas City officers saw the van parked near a drinking establishment in the 2600 block of East 26th Street, Lawrence Police Sgt. Mike Pattrick said.
Helm and James were in the van, Pattrick said.
Kansas City Police called for an ambulance because James suffers from asthma, Pattrick said. Ambulance personnel checked the boy and found him in good health, Pattrick said.
Lawrence detectives went to Kansas City to assist, Pattrick said. Chauncey wasn't found until about 4 a.m., at an apartment in the 1300 block of East 82nd Street, but Pattrick declined to say what the delay was in locating the second boy.
At least one other person was at the apartment with the child, Pattrick said.
Another man found in the van with Helm was questioned and released, said Officer Steve Young, a Kansas City Police spokesman. No other arrests were expected, he said.
The motive for the alleged kidnapping was not known and is still under investigation, Pattrick said.
Families elated
Turner wasn't the only person celebrating the boys' return Friday. So was Betty Giddings, Turner's stepgrandmother.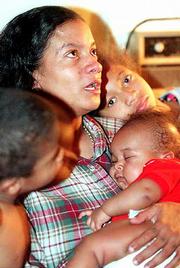 "I was elated," she said.
Turner's mother, Mary Leach, couldn't be reached for comment Friday.
Turner said she met Helm several months ago through mutual acquaintances. They were not close friends, she said.
Turner, who was staying at her mother's house before Wednesday, said Helm needed a place to stay Sunday. She allowed Helm to stay with her at her mother's residence. Helm was baby-sitting the children Tuesday while Turner was at work. She allegedly drove off with them in a van belonging to an acquaintance, Turner said.
The van was never reported stolen, Pattrick said.
Exhausting search
Turner called police and reported the children missing shortly before 10 p.m. Tuesday, Pattrick said.
Turner, along with friends, drove all over Lawrence and even drove to Topeka trying to find her sons, she said. She said she was especially concerned about James because of his asthma. The boy needs to be put on an oxygen machine every three hours, his mother said.
"They're doing fine," Turner said as she held a sleeping James. Chauncey, meanwhile, ran around the small apartment and played with his siblings. Turner said she has six children five boys and a girl ranging in age from 4 months to 11 years old.
James' father, James Barbee Sr., 28, also helped search for the boys, he said. He learned about the boys' return from a friend about 11 a.m. Friday.
"I had been up for days," he said. "I'm exhausted."
James' grandfather, the Rev. Leo Barbee, said he believes prayers were answered.
"I spent my time praying," said Barbee, minister of Victory Bible Church, 1942 Mass., said. "That was all I could do. That's what I told everybody else to do."
Helm's sister, Nicole Helm, 18, also was happy with the outcome but remains concerned about her sister. Although Nicole Helm has not seen much of Natasha Helm in some time, she hopes now to do so.
"I'm greatly relieved," she said. "She's my sister and I love her, but I don't know why she would do this."
Copyright 2018 The Lawrence Journal-World. All rights reserved. This material may not be published, broadcast, rewritten or redistributed. We strive to uphold our values for every story published.