For some reason, Jefferson's Restaurant didn't see the wisdom in designing their menu cover to be an oversized version of a two-dollar bill, rather than a one-dollar bill.
The place is called Jefferson's, after all, and it's Thomas Jefferson's picture on the two-spot. If the owner had gone with this concept, he could have doubled his retirement fund, payable upon redecorating because customers have jumped on this dollar-bill bandwagon and wallpapered the place in artistic money.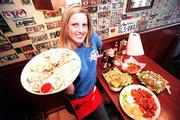 The dollars aren't the most original decor nor, for that matter, are the sports pennants or the Norman Rockwell prints and most of them are adorned with people's names and other boring stuff. However, it's worth a few moments of browsing to uncover the occasional social commentary, including one from a patron who spent two bucks to compose: KMART SUCK.
Anyway, they didn't get the two-dollar bill idea going (neither did the U.S. government, come to think of it), so instead, it's just another day, another dollar at this Massachusetts Street burger joint.
A more conservative strategy, but at least a sound one for Lawrence residents since Jefferson's fills a need for hot, fast, protein-packed normal food downtown. No organically grown, free-range, sun-dried, rain-soaked, or wind-kissed food here. Nothing packed in clear Caribbean waters or snow straight from the north of Saskatchewan.
This is what you got: You got burgers. You got chicken. You got oysters. And you got beer. About 50 kinds of beer, imported from everywhere from Jamaica to Japan. You got Jim Croce and Janis Joplin on the juke box, rolls of paper towels in lieu of napkins, and svelte and smiling waitresses delivering food on Bud Light platters.
It's a predictable menu but that's the point at Jefferson's. They divide their meals into three main categories sandwiches, platters and baskets, which essentially translates into different combinations of food with fries and cole slaw. There also are three different varieties of salad with chicken nearly enough to deserve its own category, if you ask me and some seafood.
Baked and fried
Start Me Up! the appetizer menu declares, and the baked oysters certainly did. "Topped" with pepper really means smothered in it, and it effectively negated the usually distinct taste of parmesan. I recovered from the pepper after a few gulps of soda, but there was no point since the oyster itself lacked that chalky-tasting chewiness that makes oysters good. I'm glad I resisted the "Jefferson Baked" version, which featured hot sauce and jalape My advice is to go with the fried, which tasted like oysters underneath the coating.
Jefferson's, in fact, is an ideal place to enjoy a fried food extravaganza, if only from the sheer number of choices. Ours encompassed not only the oysters, but also shrimp, corn nuggets, onion rings and dill pickles. The coating on the shrimp should have been crispier, and the cream corn-filled nuggets were an odd combination with honey mustard dip. But all-in-all it was some good unhealthy fun, and I totally recommend this batter-dipped bender if, for any reason, you are angry with your arteries.
What: Jefferson's RestaurantWhere: 743 Mass.; 832-2000Hours: 11 a.m.-10 p.m. Mondays-Wednesdays; 11 a.m.-11 p.m. Thursday-Saturdays; noon-10 p.m. SundaysEntrees range from: $4-$11
Burgers are a basic food group here, and although they're not the dripping, bulging, smothered affairs of some restaurants, they're pretty darn good. The Jefferson burger, topped with cheese, bacon and barbecue sauce, was my favorite, although the Jefferson chicken platter (same idea but with chicken) didn't measure up as well; the barbecue sauce leaned toward watery and the cheese toward chewy.
Meat market
The steak platter struck me as overkill why get steak at a burger place? and when it arrived undercooked I did feel a smidgen of smug validation. Our waitress didn't bother to express any sort of apology even a phony one would have been appreciated; however she did return it dutifully to the kitchen, and its second incarnation actually wasn't too bad. It's definitely no steakhouse steak, but tender and tasty enough, and at $6.25, it must be one of the cheaper cuts in town. When the folks visit on homecoming weekend, this is where you can treat dad to a steak and still have money left over for next weekend's bar-hopping.
Surprisingly good was the B.L.T., which was served on thick toast and actually surpassed the minimum requirement of L.T. Most fun was the you-build-it approach; this culinary Tinker Toy provided seconds of entertainment and saved me the trouble of prying the sandwich apart to check for too much mayonnaise.
Where Jefferson's could really stand some improvement is in its side dishes and desserts. This isn't the Woolworth's counter, after all. They need some better fries, and the cole slaw barely trumps KFC's. It was white and runny with a few molecules of carrot and no hint of sharpness.
The pie pecan or peanut butter isn't worth the caloric commitment either. If you find yourself slipping into a sugar low, just have a few more swigs of your super-sized soda and save a dollar or two for some dessert down the street.
Copyright 2018 The Lawrence Journal-World. All rights reserved. This material may not be published, broadcast, rewritten or redistributed. We strive to uphold our values for every story published.