"In no way is Akron, Ohio, like Liverpool, England," says singer/guitarist Mark Benson. "It's not a seaport town. Nobody here has an English accent. I'm trying like crazy to think of ways that it's similar, and it just isn't."
Benson is calling from his hometown of Akron, where his band "1964"... The Tribute has maintained its base since forming in 1984. Benson assumes the role of John Lennon in this spot-on recreation of the early Beatles' live experience. Although homages to history's most famous rock band are hardly new Beatlemania, Liverpool and dozens of similar pretenders have at times adopted the mop-top Benson draws a distinction between "1964" and other acts.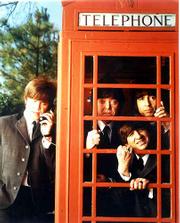 "It's hard for me to be objective, but one of the things that I notice about our show is chemistry," he says. "I've seen other shows that have great players and great singers, but they appear to be cast. A lot of the guys in this group grew up in the same town and knew each other through musician circles. We would go see the drummer's (Greg George) band because when he was 16, it was such a phenomenon to look like Ringo."
And to whom did Benson bear a resemblance to during his high school days?
"I looked like Robert Redford," he says, laughing. "No, I think like one of The Beach Boys, actually. I had really blond hair I was a lifeguard, so it was super sun-bleached hair. I could have been one of The Beach Boys."
Back then Benson hardly envisioned that his road to fame was to be routed through Penny Lane and Abbey Road.
"We thought when we put '1964' together it would just be something to do while we were working on original material a couple times a month doing baby boomer stuff like oldies parties and class reunions," he recalls. "We were only considering doing it locally. We weren't really looking at traveling a lot."
Here, there and everywhere
But traveling has been the group's modus operandi for the last few decades. As gratifying as it is to Benson that his act continues to be the most popular of the Fab Four impersonators is the fact that each new generation seems to embrace The Beatles with the same enthusiasm as the previous one.
"It seems like every five years something happens where they get back in the top 10 again," he says, thankful his band didn't opt for a career based on The Hollies or Iron Butterfly. "I'm a little surprised that at this particular moment in time their book ('The Beatles Anthology') is on the best sellers list and their album ('1') is No. 1. The astonishing thing to me is there's nothing new. There's not a new picture; there's not a new mix."
What: "1964"... The TributeWhen: 7 p.m. todayWhere: Liberty Hall, 644 Mass.Ticket information: 749-1972
Despite his constant exposure to the sights, sounds and words of The Beatles, Benson is reluctant to admit there are songs by the legendary group that he is sick of playing.
"I don't have one, believe it or not," he says. "The things I get tired of are the lack of sleep and the traveling. The music stays fresh, because you can look out on any given night and see people responding positively. That's a great feeling to know that as soon as we strike up this chord, we're going to have them in our hands."
While the helter-skelter years of touring have provided their share of highs, including performing at the Summer Olympics in Atlanta and across the pond at Philharmonic Hall in Liverpool ("We've played there two years in a row, which is unheard of apparently," Benson says.), not all the gigs have been so rosy. In fact, Benson points to one past show in Kansas City as the band's most "unfortunate" moment.
"Years ago, Gary (Grimes) completely lost his voice," Benson says of his fellow "1964" cofounder who plays the part of Paul McCartney. "He couldn't even speak. That's when you realize how integrally involved with every single song Lennon and McCartney were. It's difficult to carry on the show with nothing but Ringo and George tunes.
"We had a show in Kansas City at The Uptown Theater, I remember this like it was the other day. It was 3,200 people. Sold out. I called a friend who was real connected in the (KC) scene and said, 'I need a Paul McCartney. You got to find me someone who can sing like Paul McCartney.' So she got this guy who had a really nice voice and had a working knowledge of about 90 percent of what we were doing. We sat him like 20 feet from Gary behind the curtain with a microphone. No one knew all night long. Nobody. Gary was a little irritated when the guy started ad-libbing, because he was whetting his whistle with a beer the whole time. But he saved the night. I remember his name was Guido."
A bite of the Apple
Ads hyping Benson's band feature a quote from Alistair Taylor, former president of The Beatles-owned Apple Records. He claims the "resemblance was uncanny" to the original Beatles after witnessing "1964." And Louise Harrison, sister of George Harrison, was so impressed that she threw a party for the quartet after attending a concert. However, none of the actual surviving Beatles have been to a live performance.
"They've been sent videos, and they're well aware of us ... so our their lawyers," Benson reports. "We were in a two and a half-year lawsuit with Apple Corps. Ltd. which, to be fair, is not like saying The Beatles themselves sued you. It's like saying Apple Corps. sued you. There's a distinct difference."
The result of the legal wrangling has given the band a clear advantage in the tribute market. "We're the only group in the world that has a federal court agreement stating that we're allowed to continue what we're doing," Benson says, adding that this hasn't hindered other similar groups, but has actually "trickled down" to deter legal suits against them as well.
"When we put this together, we wanted to make sure it was
Copyright 2018 The Lawrence Journal-World. All rights reserved. This material may not be published, broadcast, rewritten or redistributed. We strive to uphold our values for every story published.