Annette Cook believes that everyone is an actor at heart, and she's out to prove it.
As the instructor for the Lawrence Community Theatre's latest adult improvisational class, she has businessmen, housewives and college students getting in touch with their inner Tom Hanks and Julia Roberts.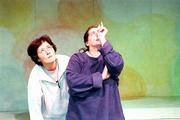 "Improvisation is a life thing," Cook says. "It's how we normally react and do things.
LCT, located at 1501 N.H., stages several comedies, dramas and musicals each year. Now, it is in the process of developing an educational program for youths and adults. The program took off last year with an improvisation class that brought several new performers into the theater. Some class participants had never acted on stage before and are now regularly showing up at LCT casting calls.
"Last year we talked about an adult education program for improvisation and acting. The theater has always wanted to do it," Cook says. "We had several students come out of the program and into shows."
Cook cites "Tony and Tina's Wedding" as a production that used the new actors and their recently acquired skills. The dinner theater ensemble uses a partial script to flesh out their characters as they stage a mock Italian wedding and reception. The concept, however, calls on them to use plenty of improvisation as they interact with the audience and any situation that may arise.
And though no one in class may go on to a career as the next Russell Crowe, the methods learned by interaction with an acting ensemble is a great way to relax, and it develops social skills, Cook adds.
"We had one student who came in and was just petrified to do anything," she says. "Then she got going, and now her attitude is 'What do you want me to do now?' She'll try anything. It brings people into the theater and they do things they thought they could not do. It's an opening up experience, and that's neat."
Improvisation uses vocalization, physical movement and interactive game playing to get participants to loosen up and feel comfortable on stage and with their fellow actors. As they grow more comfortable being watched by others, their performances become more natural and less forced or stilted.
"My husband has even taken the class. He does it just to calm down and as a stress relief. Once we get going it's a lot of fun and there is a lot of laughter," Cook says.
What: Lawrence Community Theatre Adult Improvisation workshopsWhen: 7 p.m.-8:30 p.m. TuesdaysWhere: 1501 N.H.Information: 841-1420 or 843-7469
The class members use the physical exercises, vocal training and acting situations that employ contrasts and conflicts to get into spontaneous role-playing.
"It loosens you up and gets the inhibitions out. It gets the bodies and voice going," Cook says.
And if it sounds good, then Cook is more than willing to sign up interested would-be actors for the next class, but since this one is already in session she doesn't believe in adding latecomers.
"You get a continuity with people and build security with one another, and it's not good to disrupt that," she explains. "It's about trusting yourself with others. When you work on a role, you're expressing yourself by experiencing that life."
It's not all in-house work. Class members can audition for upcoming shows, and the class also performs a "Night of Improvisation" where the members use games to build scenes that the audience suggests to them.
And improvisation is just the start of what LCT has in the works. Also being offered is an audition workshop which is scheduled for 7 p.m. today, and a "Backstage Exposed" tour that explains how a production is put together, for 10 a.m. on March 3.
LCT also holds a coffee and conversation group on the opening day of each new production. For youths, LCT conducts a "Schools out, Theatre's In" spring break program, which stages a mini-musical for grade school students.
For the staff, all the workshops help to develop and nurture new talent.
"We're trying to build up a troupe here," Cook says.
Copyright 2018 The Lawrence Journal-World. All rights reserved. This material may not be published, broadcast, rewritten or redistributed. We strive to uphold our values for every story published.