The doctor delivered some bad news to Kansas forward Drew Gooden on Tuesday afternoon.
Gooden, who has missed KU's last three games because of a right wrist injury, was told he'd have to sit at least one more week.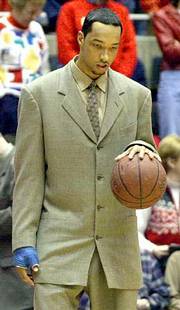 A CAT scan revealed a healing fracture in the distal end of one of the carpal bones (scaphoid), meaning Gooden will miss tonight's 7:05 p.m. home battle against Colorado and Sunday's game at Nebraska.
Gooden will be re-examined on Monday with a good chance he'll be cleared to resume play.
"This continues to be a big blow for our team and Drew personally," KU coach Roy Williams said, indicating Gooden will continue bone stimulator treatments this week as his wrist continues to heal.
"Drew is very disappointed about not playing because he is having no pain at all, but understands this is the best decision for the big picture."
Senior Luke Axtell (bulging disk in back) also missed practice Tuesday and won't play tonight. He's listed as day-to-day.
Gooden, a 6-10 sophomore from Richmond, Calif., actually "felt good" Tuesday after learning what exactly was wrong with his shooting wrist.
"I feel good that I know what's wrong with me," said Gooden, who has been examined by five to six doctors the past couple weeks.
"I found out today it's a fracture that's healing. It's really small. I also passed my clinical exam which is basically feeling no pain in the wrist. Basically this week is let it try to keep healing, and hopefully on Monday, if the wrist is feeling the same way, I'll be cleared to play. I'm pretty guaranteed I'll be able to practice Monday 95 percent."
Williams agreed.
"I think there's a great chance he'll be released (to play) next Monday," Williams said. "I won't say 100 percent.
"There is a possibility he could not be. I think then I'd have to choke him," the coach joked.
That's because Gooden has been quite antsy wearing his cast.
On Sunday he removed the cast during KU's clinic with the Special Olympians.
"He wants to play. He's frustrated he can't play. In his mind he should be playing now. Today we finally got him to understand it's going to be another week," Williams said.
Gooden has been frustrated partly because his fracture is so, so tiny.
"As Drew said, they have got to find some micro computer imagery thing before they can even find the fracture because it's so small," Williams said. "He has no pain, no tenderness, complete range of motion.
"The doctors think it's silly to allow him to play right now. It (tiny fracture) is something they are worried about."
Gooden was asked if his injury might make him consider turning pro early.
Missouri's Kareem Rush, who has been frustrated by a thumb injury, has said he'll definitely be back next year.
"I mean, sometimes you get a little frustrated like, 'Why the hell am I doing this?''' Gooden said. "I want to play, but I can't. I know it's for my own good, but watching from the bench makes you want to play.
"Some thoughts of that (NBA) have crossed my head. I look at it like I'm just sitting out five games. I am not trying to jump the gun to try to leave for the NBA early.
"I"m not ruling anything out," he added. "Right now I don't think I am ready (for NBA). If by the end of the season I think I'm ready to go, I'll have to talk to my family and coach Williams for that decision."
Gooden says there's been one bright spot to being hurt.
He's been able to closely observe KU's coach during games.
"Everything coach has emphasized the past years since he's been here and the two years I've been here ... I'm finally seeing what he's talking about," Gooden said. "It's a good position to be in, to observe the whole game instead of just being in there playing."
As far as Luke Axtell and the senior's bad back ...
"He didn't practice yesterday but 10 plays and not at all today, so he's not going to play (against CU)," Williams said. "The doctors thought he'd be able to go yesterday. After 10 plays he said, 'Coach it's killing me.' Today he didn't try anything and had therapy."
KU was so shorthanded at practice Tuesday ex-Jayhawks Rex Walters, C.B. McGrath and Jerod Haase each participated at practice.
"It's tough right now, but regardless of who we have, we've got to play and play well," Williams said.
Copyright 2018 The Lawrence Journal-World. All rights reserved. This material may not be published, broadcast, rewritten or redistributed. We strive to uphold our values for every story published.