San Cristobal, Mexico — President Bush praised Mexican President Vicente Fox as a straight-shooting ally in fighting drugs and helping America cope with power shortages at a summit Friday that produced pledges of close cooperation but no major agreements on long-simmering disputes.
"Each nation has a new president, and a new perspective," Bush said.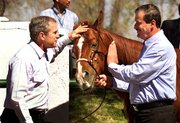 The casual, colorful eight-hour summit at Fox's ranch 210 miles northwest of Mexico City was overshadowed by the bombing by U.S. and British planes of five Iraqi military sites. Bush briefly interrupted the session in Fox's ranch house to receive the news, carried to the talks by a junior aide who rushed from a dusty broccoli field housing the makeshift White House offices.
The leaders declared their meeting a success, if for no other reason than the expectations were set so low. "This wasn't a meeting to arrive at agreements or details or decisions," said Fox, who took power in December, ending seven decades of one-party control.
Fox had sought a sense that his nation was taken seriously, a goal Bush achieved simply by putting Mexico atop his travel schedule. Bush produced an error-free maiden foreign policy trip, using symbols and soothing words to show that he wants to work with Mexico as a partner not a meddling superpower to deal with drug trafficking, immigration, trade and other issues that cause friction.
"Our nations are bound together by ties of history, family, values, commerce and culture," said Bush, who showed his playful side all day. He admitted he had his father's taste for broccoli turning a thumbs down on the vegetable grown by Fox and livened the news conference by calling reporters "Stretch" and other nicknames.
In shirt sleeves and open collars, Bush at times spoke in heavily accented Spanish, Fox in fluent English, to symbolize the warm relationship they hope to build. On the way to the ranch, Bush's motorcade passed fields of goats and cows and laundry strung from countless clotheslines before stopping at the home of Fox's mother.
Fox and other Mexican officials embraced Bush's efforts to blend with the community, and his commitment to discuss drugs and migration in ways that don't saddle Mexico with all the blame.
On drug trafficking, Bush stopped just short of endorsing efforts in Congress to end the annual U.S. evaluation of Mexico's drug-fighting efforts. But he raised Mexico's hopes by saying the "main reason" for drug trafficking through Mexico is the demand by U.S. citizens for the product.
"Our nation must do a better job of educating our citizenry about the dangers and evils of drug use," Bush said, sharing responsibility for a problem that Mexicans feel is too often blamed on them.
He noted "a movement" in Congress to review the certification process and said he plans to tell U.S. lawmakers that Fox "will do everything in his power to root out the drug lords and to halt drug trafficking as best as he possibly can."
The endorsement "I trust your governor" was designed to signal Congress that Bush is willing to lift or dramatically change the certification requirement on Mexico, U.S. officials said, speaking on condition of anonymity.
National security adviser Condoleezza Rice said Bush agreed in the meeting to take a "hard and new look" and the certification process.
Bush said he talked with Fox about the possibility of helping Mexico produce more energy along the border that could be pumped into California and other Western states electricity shortages. "Now, there are some bottlenecks, and one of the things we need to do is address those bottlenecks, one of which is the ability to transmit power from the south to the north."
Fox said progress was made on immigration issues.
"Certainly there is a new attitude, there is a new way of approaching things, much more positive approach to things on this issue of migration," Fox said.
Bush opposes amnesty for Mexican living illegally in the United States and Fox supports it, but the leaders chose not to mention the difference in their news conference. Instead, Bush spoke vaguely about their talks on how to ensure "safe and orderly migration, a policy that respects individuals on both sides of the border."
Bush named Secretary of State Colin Powell and Atty. Gen. John Ashcroft to head a joint task force to tackle immigration issues with Mexico.
Copyright 2018 The Associated Press. All rights reserved. This material may not be published, broadcast, rewritten or redistributed. We strive to uphold our values for every story published.