Icy roads apparently caused a double-fatality accident Wednesday morning in Jefferson County.
The accident killed Lois J. Riley, 69, and her 4-year-old grandson, Johnny Becerra, both of Topeka, the Kansas Highway Patrol said.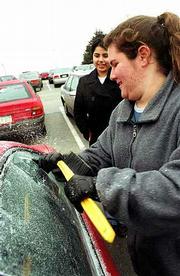 Riley was driving southbound on U.S. Highway 59 when her 1986 Honda slid sideways into the northbound lane, where it was struck by a 1986 Oldsmobile Regency. The accident occurred about 3 miles south of Oskaloosa.
The driver of the second vehicle, 54-year-old Janet K. Scott of Leavenworth, was treated and released at Stormont-Vail Medical Center in Topeka. Her passengers, Michael W. Scott, 33, of Topeka, and William D. Campbell, 31, of Leavenworth, were treated and released at Lawrence Memorial Hospital.
At least two other people have died in weather-related accidents in Kansas this week. A tractor-trailer driver from Nebraska died Wednesday after colliding with a Kansas Department of Transportation salt truck about 6 miles north of Clay Center in north-central Kansas. On Tuesday, a 20-year-old Wichita man was killed in the worst of a flurry of traffic accidents in damp, foggy weather in the city.
Dispatchers in Lawrence and Douglas County reported no major accidents due to weather Wednesday.
Temperatures fell into the 20s Wednesday afternoon, causing drizzle that had been falling since morning to freeze on roads. That sent city road crews to work sanding roads. It also caused several school districts including McLouth, Oskaloosa and Perry-Lecompton to close down during early afternoon. Many districts farther north and west canceled classes altogether Wednesday.
"We were watching the Weather Channel, and every indication was that we were going to be getting some of that stuff they were getting father west," said Henry Murphy, superintendent of Perry-Lecompton schools, which let out at 1:30 p.m. "We didn't end up getting any of it, but that's the risk you always take."
He said weather already has forced the school to close six days, which may force students to have a longer school year.
"We're about at the break-even point at this point in time," he said. "Anything else, and we'll have to go later in the year."
The weather didn't affect Lawrence schools, where elementary and junior high students already were scheduled to have the afternoon off for their regular early-dismissal day.
Steve Kays, a meteorologist with the National Weather Service in Topeka, said weather shouldn't cause any traveling difficulties in the next few days.
"The worst is certainly over, and the longer-term forecast is for dry weather through the weekend," he said.
Copyright 2018 The Lawrence Journal-World. All rights reserved. This material may not be published, broadcast, rewritten or redistributed. We strive to uphold our values for every story published.