Though the title is an unlikely one, "the Bob Marley of metal" certainly fits Soulfly's Max Cavalera nicely. The 31-year-old Brazilian-born singer/guitarist, whose former band Sepultura helped smash the barriers that kept South American rock out of the U.S. mainstream, has evolved into a musician for all nations, spreading his tribal rhythms to the far reaches of the planet.
"What I love about this kind of music is that it stretches all over the world, it's very powerful," Cavalera says, phoning from a Portland, Ore., soundcheck. "There's always going to be one kid in one town that will be into heavy music. He might not be the most popular kid, but he loves it and he carries on that fire. I'm proud of that, and that's part of making my music. Even though I won't be there to see it, I know it's going far, much farther than I can imagine."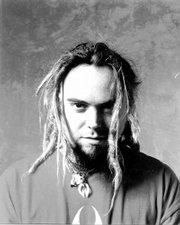 Babylon by bus
Soulfly formed from the ashes of Sepultura, a band with a storied history that dates back to mid-'80s Brazil. Cavalera formed the group as a teen-ager and stayed on for nearly 15 years, until internal tensions and management disputes (Cavalera married Sepultura manager, Gloria Bujnowski, who was more than twice his age) splintered the band into various factions. Max moved on, forming Soulfly in 1997 and releasing the band's self-titled debut the following year.
"It involves different things," Cavalera says of the two bands, "but it's the same type of music: the heavy tribal grooves and stuff. It's got different vibes on it."
Soulfly toured the world, snagging a much-coveted slot on Ozzfest and selling truckloads of records. Rather than sticking to mainstream venues in big cities, Soulfly made a point of playing tiny venues in off-the-map towns, spreading its sonic message as if it were Brother Love's Traveling Salvation Rock Show. For Cavalera, musical globetrotting is the best part of his job.
"I like going to different places like Turkey or Israel places where you don't go all the time," he explains. "It seems like the kids are so hungry for music. Their hunger for music is just super-alive in those places. Sometimes you go to big cities like New York where they have 10 shows every night to choose from. They don't have that hunger as much as a kid from the middle of nowhere has. So I kind of like playing for an audience that's totally fired up to see you, like they can barely believe they're actually seeing you live."
Primitive cool
Writing songs for the second Soulfly record wasn't a problem for Cavalera, who carries a notebook and a recorder everywhere, jotting down lyrics or taping musical ideas as they come to him.
"There's not really a rule," he says. "I don't really have a time where I stop everything and write; I write all the time. I believe that's the way to keep it fresh and keep it less predictable and more real and natural."
What: Soufly, Pantera, Morbid AngelWhen: 8 p.m. FridayWhere: Hale Arena, 1800 Genessee, Kansas City, Mo.Ticket information: (816) 931-3330
Soulfly spent more than two months in the studio concocting its sophomore release "Primitive." Rather than merely picking up where the first record left off, Cavalera and company toiled and sweated over "Primitive," until it crackled and burned with forest-fire intensity. The band also brought in a host of special guests, including members of Slipknot, Slayer and The Deftones, who added variety and new ideas to the finished work. Perhaps the most surprising guest star on "Primitive" was none other than Sean Lennon, who performed a duet with Cavalera on "Son Song."
"We met Sean in Australia at the Big Day Out Festival," Cavalera explains. "We were sharing the same bus, so we were kind of interacting on a day-to-day basis. We became friends with him and the guys in his band. Later, we were getting ideas ready for the album, and I thought that doing a song with him would be really cool. It is one of the most different moments of the album. Like it or not, you can't ignore the fact that both of us are singing together."
"Primitive" was released in September 2000 to universal critical acclaim, quickly outselling anything Cavalera's done to date. Though "Primitive" was forced to compete with the current cavalcade of trendy heavy-music bands, Cavalera was never concerned about it finding an audience.
"There's some trendy stuff that I know is gonna go away and there's some stuff that's gonna stay," he says. "I like to think that we're not a part of the trendy stuff and we're here for the long run. Together with many other bands, including Pantera and Slayer, we're not the hip thing of the moment and we don't like to be."
Natural mystic
Currently, Cavalera is thinking about his roots. More specifically, he's thinking about "Roots," the 1996 Sepultura album that found the band collaborating with native Brazilian percussionists to wondrous effect. "Roots" was a turning point for Cavalera, proving that he could expand the possibilities of heavy music without pulling any sonic punches.
"Putting that thing together was just a nightmare," he recalls. "It took months to get it right, it was a lot of work. It's not easy it's not something you can do in five minutes but that's something that's priceless. All the time and all the work you put in, the reward keeps you going. The results are worth all the struggle you put into it. It pays back in the end in a big time. It's there forever and nobody can touch it. Time cannot touch it; in 20 years it's still going to be seen as an awesome adventure."
Live Soulfly review in Sunday's Journal-World
For Soulfly's next record, Cavalera wants to create something akin to "Roots," recording around the world in various studios, experimenting with local musicians and regional sounds.
"It's an idea that I've had for a long time," he says. "It would be a very time-consuming project, but I think it would be really cool. It would be a complete different vibe, a totally different feeling than recording at the same place with the same person. But we'll see. It's easy to say, but it's not so easy to conduct."
For now, Soulfly is content to do what it does best: present its throbbing musical gristle upon stages across the globe and inspire as many people as possible in the process. It's a job that never gets old for Cavalera, who takes the power of music seriously and knows the impact his music can have.
"We meet a lot of people that this music has touched over the years. We get a lot of letters from the fan club. There's some letters that are just I won't say unreal because they're real things written by real people but they are so strong sometimes. There's one guy who wrote me who was in a concentration camp in Bosnia for six years. He was listening to my music the whole time and that gave him strength. It's heavy stuff and you don't imagine that when you're writing songs. You read in the news about the war in Bosnia and all that and this guy actually lived through that. It freaks you out that you're music can go places like that and serve as some kind of strength and some kind of relief for people."
Copyright 2018 The Lawrence Journal-World. All rights reserved. This material may not be published, broadcast, rewritten or redistributed. We strive to uphold our values for every story published.