If you remember anything from ninth grade algebra, you'll probably figure out the operating formula at Hereford House, which is roughly: 2 people x 2 meals = 75 bucks per evening. That's not to say Lawrence's new steakhouse (modeled on the 40-year-old Kansas City franchise), doesn't have its own brand of appeal as well as its own brand of wine glasses and coffee mugs but it's also clear this restaurant leaves little margin for creativity when it comes to determining what food sells, who it sells to and how to turn the table in an hour and a half.
The atmosphere strives for a casual western feel with a dash of contemporary sophistication. It's like you're sitting down to a meal with Ben Cartwright, but if you'd prefer to keep the ranch under your feet and off your salad, well then, there's a roasted shallot vinaigrette available, too. The comfortable setting of wood tables, a two-sided stone fireplace and western art encourages that chat with Ben, but if you can't speak on nefarious land deals, then sit at the presentation bar opening to the shiny stainless steel kitchen for some alternative entertainment.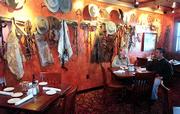 Here's the beef
Hereford House offers a slightly more varied menu than many other local steakhouses including one that admits to offering no vegetable not based on a potato but the main point here, of course, is the beef.
From the lowly steakburger on up to the filet with lobster, steaks are what this restaurant is about, and they're what it does best. Our ribeye special came with a sun-dried tomato demi-glace that was an interesting alternative to the traditional sauces, but the straightforward bearnaise and bordelaise are there for the less adventuresome. The generous helping of heifer was tender and cooked to order pretty much a necessity for a great steakhouse.
So go to it: choose your cut, choose your sauce, choose your obligatory side dish and then neglect it to gorge yourself on meat.
The roasted chicken and barbecued ribs were adequate, but this combination platter derived most of its personality from the accompanying smoky-sweet barbecue sauce. The standard sides of baked beans and french fries were the stars here, though there was an opportunity missed in the rather ordinary mashed potatoes.
We skipped the regular house salad in favor of a Caesar and a "Pierpont" house. Both were too heavily dressed and the Caesar was entirely forgettable; the Pierpont, however, was an attractive choice for those who believe salad shouldn't be based on iceberg lettuce. The taro root gave it texture, the shallot vinaigrette flavor and the crunchy, colorful red potato sticks stood in nicely for croutons in an appropriate keep with the Western theme.
Where Hereford House goes wrong is not with its selection of tastes, but with its assault of them. It's as if the chef is afraid that a milder taste will be interpreted as bland. An appetizer of mushrooms stuffed with shrimp, crab and cheese is tasty but lacking in discreet flavors or textures; the garlic spinach, likewise, relies on butter rather than the more challenging taste of the spinach itself.
Desserts, if you're not too stuffed with salty goodness, are the usual choices. The carrot cake was dripping with butter and nuts and glued together with icing. It was undeniably yummy, but if there was a carrot present, it should win a Golden Globe for Best Portrayal of a Toasted Almond. The white chocolate bread pudding looked interesting, but perhaps that was more the entertainment of the waitress charged with flambg it tableside and then wondering how to douse the flame once she remembered that blowing it out would violate the health code.
Chalk it up to a wait staff that is competent but not confident, accommodating but not anticipatory. We had to ask for water refills and point out that our baked beans had not arrived. Worse, the well-oiled restaurant machine and I'm not referring to the food here got a little ahead of itself when we got only about two quality minutes with our salads before the entrees arrived. Nor did the server (not our primary waitress) seem to care. Not to be held up at the pass on this culinary cattle drive, she instead whisked away the unfinished salad before we had officially excused it and managed to shove all the plates on the table. In short, it was an ill-timed stampede.
It's distressing even to have to resort to phrases like "our primary waitress"; things invariably suffer when there are too many servers at the swivel cart. That said, our regular waitress was responsive and rather pleasantly opinionated, from the wine list (she discouraged the Sycamore Lane house wine) to the desserts.
Hereford House has successfully crafted a formula based on a cozy environment and upscale comfort food. The tables were full and the bar was packed, though any Hank Williams filtering out of there will be strictly off a digitally remastered CD. The cr brflavor changes monthly, but don't expect many other surprises bad or good.
What: Hereford HouseWhere: 4931 W. Sixth St.; 842-2333Hours: 11 a.m.-10 p.m. Mon.-Thu.; 11 a.m.-11 p.m. Fri.; 4 p.m.-11 p.m. Saturday; 10 a.m.-2 pm. brunch, 4 p.m.-8 p.m. dinner.Entrees range from: $10-$40.Ratings:* = Awful** = Worth a look*** = Good**** = Excellent
Copyright 2018 The Lawrence Journal-World. All rights reserved. This material may not be published, broadcast, rewritten or redistributed. We strive to uphold our values for every story published.