It's based on a simple premise the sooner you teach children to read, the better their lifelong learning prospects become. And a Lawrence elementary school along with community volunteers have taken it to heart.
"Reading is one of the most important things you can do with a child," said Richard Holzmeister, a volunteer who spends 45 minutes each week with a kindergarten student at East Heights School.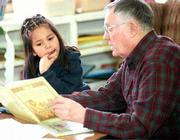 "My little girl, she really looks forward to it every Tuesday," Holzmeister said. "It gives a child an idea that someone's interested in their life. And the sooner you reach a child, the better."
Holzmeister helps coordinate the 23 volunteers, who come mainly from the Lawrence Breakfast Optimists Club and have spent each lunch period with the kindergartners since the school year began.
This is the first year of the program, called Everybody Wins.
"We like to think we're making a difference in these kids' lives," said Carol Wallace, who reads along with her husband, Cliff. "We're just trying to be a friend and show these kids, some of whom may not read all the time, just how fun it can be."
The program was founded in 1989 by Arthur Tannenbaum, a New Yorker who started it informally with a few co-workers. A dozen years later, the program has expanded nationally, boasting about 6,500 volunteers in 27 cities.
Some of the larger Everybody Wins outposts include New York City, Washington, D.C., and Boston, but Topeka boasts a sizable number of about 400 volunteers.
"It's very rewarding to see the program grow across the country," Tannenbaum said during a phone interview from his Manhattan office. "There's just a tremendous need, and it's nice that everybody reacts so positively to it."
Sondra Blessing, East Heights kindergarten teacher, said that rather than seeming like another daily lesson, he visits from volunteer readers are highly anticipated by her students.
"They love it so much, it's contagious," she said. "All the students ask for it. And it's not surprising. If you start early enough, kids will want to read. They're connecting, developing a relationship with another adult. I can't say enough good things about it."
Volunteers and school officials hope to extend the program for the duration of the current kindergartners' grade-school career, Holzmeister said. Each student would continue with the same volunteer until they reached sixth grade.
Holzmeister learned about the program from his daughter, a former teacher at a Shawnee County elementary school, where volunteers came about three days each week.
"It started small, but it grew so quickly," said Jill Patton, who taught fourth grade and informed her father about the program's effectiveness. "And whether it improved their reading scores wasn't nearly as important as helping their self-esteem. If you don't believe you can read, then the older you get, the harder it becomes. These children need someone other than a teacher to say to them, 'I believe in you, and I know you can do this.'"
Cliff Wallace has seen that bond firsthand. He said he visits a boy once a week, and when Christmas vacation arrived he told the student that he wouldn't see him for about two weeks.
"That kid ran up to me next time I came to the school and gave me a huge hug," he said. "It's a really nice relationship that develops. I'm not sure how much I'm getting to him in terms of reading, but I think I've bonded with him. And if we can help these kids develop good reading skills and let them know we care about them, that's a good start."
Copyright 2018 The Lawrence Journal-World. All rights reserved. This material may not be published, broadcast, rewritten or redistributed. We strive to uphold our values for every story published.