They shoot video for ABC's "20/20," put together stories for German television and compile information about Maury Povich.
And, this month, the 15 employees of Lawrence-based NewsTV Corp. are reporting to familiar new owners, working under a new name and devising a plan to get even bigger.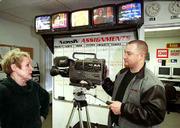 Kat Mettner and her husband, John "Randy" Mettner, bought the contract-media company from founder Russ Ptacek and renamed it NewsTV Crews Inc., to better reflect its business.
The 9-year-old company, with headquarters at 616 Ky., has a satellite office in Oklahoma City and dispatches its crews to cover news and entertainment stories throughout the Midwest. Among its clients are ABC, NBC, CNN, MTV, Animal Planet, Oprah TV and foreign systems.
"You name it, and we've done some things for somebody," said Kat Mettner, who six years ago joined NewsTV, where she had been operations manager. "Now we want to expand what we do.
"We're very good at doing the network shoots and the (TV) magazines. We have all that down. And we do research. We've got that down, too. Now we want to expand the business."
NewsTV generated about $800,000 in revenues last year, down from more than $1 million in 1999, Kat Mettner said. Now the company is looking to tap into a broader market that is less volatile than news.
By year's end, NewsTV should be lining up contracts for corporate clients, and videotaping depositions for attorneys and court reporters in Lawrence, Topeka and the Kansas City areas, Kat Mettner said.
"They are things that can be done on a daily basis," she said. "We have an awful lot of camera equipment. Anytime you can keep it from sitting around and waiting for a show or waiting for a call is good."
Not that there's much sitting around.
www.newstv.net
Wall clocks in the Lawrence office track time in London, New York and Los Angeles; others follow Denver, Tokyo, Cologne (Germany) and, of course, Lawrence. NewsTV researchers start work at 6 a.m., because German clients are seven hours ahead.
And crews don't stay put. Ryan Wurtz just got back this week from St. Joseph, Mo., where he worked sound on a half-day interview with Debbie Mathers a.k.a. mother of Eminem, the notorious hip-hop artist for "Access Hollywood."
Another NewsTV crew filmed the Golden Globe Awards for ProSieben in Germany.
But don't look for their names in the credits.
"It's all behind the scenes," Wurtz said.
Ptacek, a former TV investigative reporter, said he decided to sell the company when his responsibilities required too much management and not enough reporting.
Acquisition inquiries came in from four other communications companies ranging from a regional outfit to a division of Viacom but the Mettners' offer made the most sense, he said, because it kept NewsTV's staff employed, its vision intact and future bright in Lawrence.
"If anybody can make that company even more successful, she can," said Ptacek, who plans to travel before settling on his next career move. "This is almost like handing over a company to a family member."
Copyright 2018 The Lawrence Journal-World. All rights reserved. This material may not be published, broadcast, rewritten or redistributed. We strive to uphold our values for every story published.