Ali versus Frazier. Kansas versus Missouri. The Bottleneck versus The Granada.
No, I'm not playing a game of "which one of these is not like the other?" I'm talking about heated rivalries. And serious ones too, not some Road Runner versus Wile E. Coyote rivalry.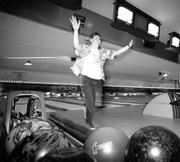 Every Tuesday night, long after you've thrown your leftover burrito from Coco Loco into the refrigerator, there's something of a turf war going on in Lawrence. The same people who served you at Coco Loco, or at most any of your Lawrence bars and restaurants, converge on Royal Crest Lanes bowling alley and battle it out for bowling king supremacy. The best bowling squad receives a 4-foot by 5-foot banner hung in the bowling alley for everyone to see, but even more importantly, they get bragging rights.
Just ask BarbWires, the champions of the inaugural season, held last fall. Every bowler in attendance keeps an eye on the reigning champs to see if they'll show any signs of weakness.
J.J. Kimball, manager of BarbWire Steakhouse, and not surprisingly captain of the BarbWires team, knows the other teams are looking to take their banner away.
"They're all out to get us," Kimball says.
"But we've got some secret weapons. It's competitive, but it's also fun."
Gutter talk
The "Bar and Restaurant" league, in its second season, has blown up from 16 teams of four to 38 teams of four. Any place that serves cold beer or a hot sandwich can get a team into the league, so on any Tuesday you might get a matchup like IHOP versus The Bottleneck, or Mad Greek versus Louise's West.
What's fun about this league is that the trash talk runs rampant. There's no coach trying to keep his team quiet and avoid giving the opposition "bulletin board material." With pitchers of beer at every table, the lights turned low and the sound system loud, trash talking is half the battle. Bottleneck owner Brett Mosiman can confirm that. Early in the season, they faced off with The Granada, a team they say has more in common with blow-up dolls than with real bowlers.
Before his team even goes to the bowling alley, they have a pre-match meeting at their Bottleneck headquarters. Mosiman's motto before the game is, "What we can't drink we'll sell." After the proper amount of drinks have been downed, the team makes the trip up Ninth Street to face their opponent.
"We think they suck... we're bitter enemies," explains Mosiman, who owns both music venues. "We crushed 'em, and we were sure to taunt them, but honestly, they were so pathetic it was hard to make too much fun of them."
Another heated rivalry is between Rick's Place and Louise's West. The employees at both bars know the other's staff, so these two teams pretend to be friendly when they're secretly trying to foil the opposition by making the other team as drunk as possible.
"We keep buying each other pitchers of beer," says Nate Younger, bartender at Rick's Place and son of owner Rick Younger. "But it was too late, we were already kicking ass, and they didn't realize that they were just throwing fuel on the fire."
Damnation alley
Of course, when one team begins to lead the other in beers consumed, there's always that chance someone's going to get mad and take the trash talk too seriously. That happened recently when the more serious Lou Zeana's team asked the rowdy Duffy's squad to remain quiet when they were about to bowl, obviously confusing bowling with golf. Duffy's took issue with the request and simply became even louder. At one point almost coming to blows, management was quickly called in and order was restored.
Wayne Martin Jr., Royal Crest Lanes bar manager and the director of the league, did say that some teams get reputations as being the serious team or the drunk team. He also says it was too early in the season to really know which team would be the new bad boys. The early favorite, though, was Hereford House.
"They've got five teams, and they get pretty rambunctious," Martin says. "They act like they run the place."
Of course, what do you expect from the new kids on the block?
But opinions vary. Kyle Unruh, Molly McGee's waiter, considered the Hereford House his favorite team in the league. It's not the early bad boy image he liked, but the overabundance of what he described as "a bunch of fine girls."
Regardless of how a team is looked upon by its opponents, Royal Crest Lanes has an entertaining league set up for service employees who usually aren't treated the best when inconsiderate customers expect their food or demand their drinks right away.
"There's not a whole lot for these people to do with the way their schedules are set up," Martin says, explaining that most in attendance would probably be serving or cooking on Friday and Saturday nights. "This gives them something fun to do with their friends instead of just sitting around drinking."
Copyright 2018 The Lawrence Journal-World. All rights reserved. This material may not be published, broadcast, rewritten or redistributed. We strive to uphold our values for every story published.