Watching this big-screen adaptation of the television cartoon, "Disney's Recess" is about like having recess on a rainy day. It sure beats hitting the books, but it's not quite as fun as it could be. Fans of the ABC show will probably be satisfied, but there isn't anything here that likely couldn't be found on the tube.
"Recess: School's Out" starts off as the school year is ending. T.J. Detweiler (voice by Andrew Lawrence) is preparing to escape for the summer. The idea of getting away from classes for a few months is rather inviting, and his possibilities seem endless. T.J. has just swiped his sister's diary and enjoys the potential leverage it should give him. He's also glad to be putting some distance between Principal Prickly (Dabney Coleman), because he made some disparaging remarks about the old man's sagging posterior.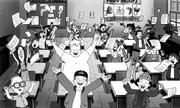 As the summer progresses, T.J. begins to notice that the principal goes through some sudden changes in his behavior (he may not even be the real guy) and that the man's golf pants can be found in the dumpster.
The lad also discovers a strange laser beam emitting from the top of the school. T.J. may be young, but he knows that this is not how schools operate during the off-season. He quickly recruits his buds Ashley Spinelli (Pamela Segall), Gus Griswald (Courtland Mead), Vince Lasalle (Rickey D'Shon Collins), Gretchen Gundler (Ashley Johnson) and Mikey Blumberg (Jason Davis).
They uncover that the school has been commandeered by a former principal named Dr. Benedict (voiced with crazed glee by James Woods), who took his old gig too seriously. When someone belches and forgets to say "excuse me," he goes ballistic. Dr. Benedict's zeal poses a danger to the school and, because of his fanatical belief in standardized test scores, may have horrid implications for the rest of the world as well.
The setup (from series creators Paul Germain and Joe Ansolabehere and screenwriter Jonathan Greenberg) does lead to some amusing moments. For example, there's a summer camp that features wrestlers putting their spin on "Kumbaya." We also get to see a flashback to the '60s, when Mr. Prickly and Dr. Benedict weren't much older than their students and everyone wore horribly gaudy clothes.
For the most part, however, the movie doesn't offer much. There's a familiarity that's downright unwelcome concerning the core characters. Mikey is the token pudgy kid, just like dozens of film fatties before him, and many of the others simply seem one-note (although, to be fair, Mikey does have an eerily beautiful singing voice provided by Robert Goulet).
Yes, it's a cartoon, but even Sylvester and Tweety had some dynamics in their relationship. Considering how far gone Dr. Benedict is, one would think the movie could have been funnier. Furthermore, the so-so animation is all right for the small screen but seems wanting in a theater. With the bigger scope of this story, one would think the images would follow suit.
Kids who are about the same age as the characters in the flick (roughly around 10) should find "Recess: School's Out" to be a pleasant diversion. Others might wish that school was back in session.
Copyright 2018 The Lawrence Journal-World. All rights reserved. This material may not be published, broadcast, rewritten or redistributed. We strive to uphold our values for every story published.