The next Bluestem CD doesn't have a title yet, but that doesn't worry Marvin Pine or his amiable band mates much. Things with this band have a way of working themselves out as long as the longtime local favorites stay the course and concentrate on the music.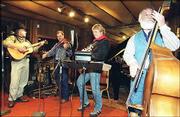 Everything is an informal negotiation, song selection, vocal arrangementsthey just work on things till they're right. No muss, no fuss.
Call it western Bluegrass, or Cowgrass if you prefer. Bluestem's brand of acoustic music is built around cowboy songs performed in a bluegrass style. Bluestem however, draws its repertoire from a wealth of sources including well known pop and rock songs.
Their last release, 1999's "I'd Like to be a Cowboy" includes the Beatles's "I've Just Seen a Face," and Del Shannon's classic "Runaway." It's available from the band's Web site, http://www.sunflower.com/~bluestem/.
If you'd like to have your music venue listed here, contact Christine McConkey at 832-7266, or email her at cmcconkey@ljworld.com.
If you would like to be of a musician's profile on theMagonline.com, please e-mail Michael Newman.
Together for roughly 20 years, Bluestem features original members Pine, fiddle player Jim Rood, along with banjo picker Keith Alberding who joined about a year later, and the new guy guitarist Rick Marshall who replaced Rood's brother Stan due to ill health.
The band is recording their upcoming release with Randy Wills producing at Exceptions Studio in Topeka. The band met Wills during their first venture as a studio band last year.
For that outing, the band played behind Topekan Judy Coder for her release "Judy Coder, a tribute to Patsy Montana." Coder was the year 2000 winner of the Patsy Montana yodeling competition. That title is available from Branson Star Records.
Currently concentrating on their recording project, longtime favorites on KANU's "Good Times radio Review," the band will be sitting out the upcoming all-Irish event at Liberty Hall. Look for Bluestem at the Santa Fe Trails Bluegrass Festival May 18-20 at the Agriculture Hall of Fame in Bonner Springs, KS. Learn more about the festival at http://www.santafetrails.org/.
Copyright 2018 The Lawrence Journal-World. All rights reserved. This material may not be published, broadcast, rewritten or redistributed. We strive to uphold our values for every story published.