Gift finances scholarships, KU camarasaurus exhibit
A $118,000 gift from a Silicon Valley couple will help assemble a dinosaur and finance overseas studies at Kansas University.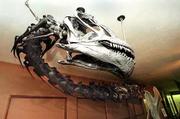 About $26,000 of the donation, from KU graduates Tom and Jann Crawford Rudkin, will be used at the Natural History Museum to feature a camarasaurus (above), a 50-foot-long, plant-eating dinosaur. It is being assembled on the fifth floor of the museum and will be completed in about a month.
The rest of the Rudkins' donation will establish two scholarship programs for students studying overseas. About $59,000 will be used to establish the Undergraduate Study Abroad Scholarship Fund for students studying western civilization, language and culture programs. Another $33,000 will be given as scholarships through the Biodiversity Research Center during the next four to six years.
The Rudkins, who serve on the Natural History Museum Board, are computer experts living in Sunnyvale, Calif.
Safety
Child seat inspections planned Friday at fire station
Parents wanting to make sure their child passenger safety seats are installed correctly can have them inspected Friday.
Certified safety seat inspectors will be present to conduct inspections from 2 p.m. to 5 p.m. at Lawrence Douglas County Fire & Medical Station No. 6, located next to Lawrence Memorial Hospital's emergency room.
Parents who have child seats but are unsure how to install them can have them installed, hospital and Fire & Medical representatives said.
Friday's inspections are in conjunction with National Child Passenger Safety Awareness Week, which ends Saturday.
The Kansas Highway Patrol says it is increasing its enforcement of the child safety seat law. It requires children under age 4 to be transported in a safety seat and children ages 4 to 13 to be buckled by a safety belt anywhere in the vehicle.
travel
Detour posted for bridge
A detour has been posted for a damaged Douglas County bridge that spans the Kansas Turnpike.
The bridge, on East 800 Road west of Lawrence, could be closed for several weeks, the Kansas Turnpike Authority said. A detour, following County Road 438 west to County Road 1029 and south to U.S. Highway 40, has been posted.
The bridge was damaged last week when a transport truck that exceeded height limits passed under it. The KTA plans to replace a beam on the bridge's underside.
Civic Affairs
State commission for blacks schedules town-hall meeting
Topeka The Kansas African-American Affairs Commission will have a town-hall meeting from 7 p.m. to 8:30 p.m. today at the Topeka City Council chambers, 214 S.E. Eighth St., Topeka.
The meeting is free and open to the public and will focus on statewide programming for blacks.
For more information, call the commission at (785) 296-4874.
Copyright 2018 The Lawrence Journal-World. All rights reserved. This material may not be published, broadcast, rewritten or redistributed. We strive to uphold our values for every story published.