The buzz of sewing machines, chatter and laughter abound.
"How does this look? What did I do wrong? Is this inside-out?"
The questions come from all directions as students line up to ask their teacher questions or try to find assistance from fellow classmates.
Welcome to a seventh-grade home and self-development class at South Junior High School, which is part of the school's family and consumer sciences curriculum.
Not much has changed during the 25 years that Coleen Creed has taught family and consumer sciences in the Lawrence school district, except for its name, which used to be home economics, and incorporating more science into her lessons. She said wellness and home care units have been added to the curriculum during those years.
She still teaches sewing, foods and personal care skills.
And students still enjoy tasting their cooking, doing hands-on projects and considering the class an "easy A."
The students in her fourth-hour home and self-development class recently finished sewing a math book cover with a pocket to hold a calculator and pencil or pen.
For many of the 26 seventh-graders, it was their first experience with a sewing machine.
Spencer Reeves, 13, said it was difficult at first, but now he likes to sew.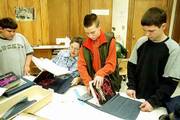 "It's like riding a bike. Once you get on to it it's easy," he said, showing off his nearly completed book cover that is blue with a green pocket.
Tony Sharpton, 12, said he has enjoyed learning to sew so much that he is teaching his friend, fifth-grader Jeremy Johnson, how to sew at home. They are making a small pillow for Jeremy's mom. Sharpton said he has made several small pillows and pincushions at home since taking the class.
Next to a countertop in the room full of sewing machines and tables, CJ Williams, 13, was pressing his book cover.
"I'm gonna burn it because I don't like it," he said chuckling, then pulled his firmly pressed book cover from an Elna press.
He said he was having fun in the class despite having no experience in sewing.
Later, Creed asked CJ to slow down on the sewing machine, which was going full-speed ahead.
"I like to go fast," he said. "Oops. I think I made a mistake."
CJ was the perfect example of why Creed said boys like to sew.
"Guys like it because it's like an accelerator it's like using a car," she said.
Some of the girls said they had some sewing experience.
Jamie Kuhnert, 12, said she received a sewing machine for Christmas and has made small items, such as pillows. She said the sewing machine at school was different than the one at home and took her awhile to learn how to thread the machine and learn the dials.
Laura Gentry, 14, said she knew how to sew before the class, but mostly by hand. She enjoyed using a sewing machine so much that she made a body pillow out of pink floral material for extra credit. Laura said she used her dad's pillows for the filler.
Spencer laughed and said, "Wait till your dad wonders where his pillows went."
As the class wound down, many seemed proud of their book covers, which they had been working on for a week.
The class even made it through the project without many mishaps. Laura said she thought it was funny when someone had sewn the front of the book cover to the back. Spencer said many classmates forgot to spray their math book covers with water before pressing them and almost burned their projects. He said they left a "funny smell."
Many of the students said they couldn't wait to enter the kitchen, where they will make cinnamon twists, sugar cookies, omelets and fruit pizza, considered a favorite among former students.
However, Creed said they wouldn't be cooking for several weeks. The next unit is wellness, which covers topics such as drug education, fitness and anger management.
Kids: Don't get any ideas
Creed recently recalled some mishaps that have occurred in her sewing and foods classes.
She said the worst incident was when a student stitched a needle through her finger and was taken to the hospital.
"That's the worst," she said.
She said some of her students have suffered some minor burns. Students also have accidentally received "cuts and nicks."
In her foods classes, the most common mistake is using baking powder in place of baking soda.
Students also like to throw things in the microwaves or ovens, hoping no one will check inside before turning the appliances on. She said someone nuked a pencil one time.
Students always are trying to sweeten up their projects with sugar and cinnamon.
"They tell me they are making the recipe better," Creed said. "And sometimes they do."
They also like to share their masterpieces with other teachers. Ryan Adams, a SJHS math teacher, happens to be one of them.
He said the students once brought him fajitas, which are his favorite. Among the other items he has taste-tested are nachos, omelets, corn bread and some brownies the students had doctored with extra salt.
"I knew something was up when I took a bite and they all started laughing," he said. "They were salty and stuck to my teeth."
Copyright 2018 The Lawrence Journal-World. All rights reserved. This material may not be published, broadcast, rewritten or redistributed. We strive to uphold our values for every story published.