Wichita — It is not the stuff Americans are used to eating.
But grain sorghum an ancient food crop that dates to 3000 B.C. but is better known in this country for its value as livestock feed and bird seed could be a hot new health food if producers have their way.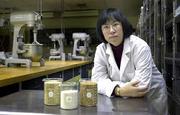 The Kansas Grain Sorghum Commission is working with the National Grain Sorghum Producers Assn. in a consortium to study the nutritional value of sorghum, as well as new uses as food.
They are touting research showing grain sorghum, also known as milo, has high levels of such health-boosting nutrients as antioxidants, tannins and fiber.
Sorghum a basic food in Africa, Asia and India is getting a facelift to make it more palatable to American tastes. Some have even coined a new name for food sorghum in this country: jowar, the Hindi word for sorghum.
But it is going to take more than a new name and obscure health research to make Americans actually want to eat these tiny round grains about the size of a BB.
So the consortium which includes Kansas, Texas, Oklahoma and Nebraska is using producer checkoff dollars to market sorghum in new ways. Among the products are health food bars, crackers, pop sorghum, a caramelized snack food, bagels, multigrain breads and tortillas.
"Grain sorghum isn't something most of us think of having on our dinner tables, but when you consider that worldwide, more than half of the sorghum grown is eaten by people, maybe we're missing out on something," said John Ratzlaff, chairman for the Kansas Grain Sorghum Commission.
Leading the way
Kansas the nation's leading grain sorghum producer has a huge stake in finding new markets for the 189 million bushels or more that it grows each year. More than 80 percent of the sorghum the state raises is used for livestock feed. The rest goes for ethanol production and other uses.
Other leading sorghum producing states include Texas, Nebraska, Missouri, Oklahoma and New Mexico.
"Our industry was really struggling from an acreage standpoint we had reached critical mass," said Tim Lust, executive director of the National Grain Sorghum Producers Assn.
The consortium was put together two years ago to fund research projects on new uses as producers realized that sorghum was a niche market commodity and needed fresh markets that were more profitable than the traditional uses of the grain as a cheap source of starch.
"It wasn't sustainable on the track it was heading down," he said.
Less than 2 percent of the sorghum grown in the nation is now used for human consumption, but producers are banking on putting 20 percent of their crop into foods for people.
That means selling the consuming American public on the idea of eating sorghum because it is good for their health.
Early research at the University of Arkansas, supported by sorghum checkoff money, shows sorghum is a good source of antioxidants, Lust said. Antioxidants are chemicals touted in the health arena for their cancer-prevention properties.
Sorghum is also gluten-free making it an important alternative food source for hundreds of thousands of Americans with celiac disease, a gluten intolerance.
Rising to the occasion
The consortium, under the auspices of the National Grain Sorghum Producers Assn., is spending $240,000 a year in research projects on new uses for sorghum and another $60,000 on marketing, he said.
Among the researchers who have gotten funding for their projects is Susan Xun, an assistant professor at Kansas State University.
Xun is working on finding the optimum combination of sorghum flour with other flours to develop a formula for the bread flour.
Some of the other research involves the size of the sorghum particle and the role of sorghum starch and protein in baking.
"All my students in the lab like to eat that bread," she said.
She has found that the white sorghum varieties have less bitterness than red varieties, but has tested a couple of red types that seem to have the least astringency.
Among the favorite flavor combinations for her sorghum bread: caraway with molasses and blueberry with nut.
Although the number of food products using sorghum in the market is still small, interest in sorghum has increased exponentially in the past three months as fears rise about genetically engineered crops like corn, Lust said.
"Sorghum is an environmentally friendly commodity," Lust said.
"We are a very efficient water user. We don't use hardly any pesticides or herbicides and we have some real health benefits to talk about."
Jowar Butermilk Pancakes


1 2/3 cups jowar flour
4 tablespoons powdered buttermilk
1 tablespoon sugar
1 1/2 teaspoons baking powder
1 tablespoon cornstarch
1/2 teaspoon baking soda
2 eggs
1 cup water
3 tablespoons melted shortening or oil
Sift together jowar flour, powdered buttermilk, sugar, baking powder, cornstarch and baking soda.
In separate bowl, mis together eggs, water and shortening or oil, and then add to dry ingredients. Beat until batter is smooth.
Pour onto hot, greased griddle and cook until the top is partially set (will not bubble) and underside is brown. Turn and brown on other side (If a thicker batter is preferred, add an additional 1/3 cup of flour).
Makes 15 4-inch pancakes.
Jowar Nut/Fruit Bread


2 1/2 cups jowar flour
1 cup sugar
2 1/2 tablespoons cornstarch
1 1/2 tablespoons baking powder
1 1/4 cup milk
1 whole egg plus 1 egg white
1 cup chopped nuts
1/4 cup oil.
Measure all ingredients into a large mixing bowl. Beat on medium speed of mixer, scraping sides, for 1 minute. Pour into greased loaf pan.
Bake for 55-65 minutes, until toothpick inserted into center comes out clean.
Cool 10 minutes in pan, turn out of pan, cool completely before slicing.
Banana Nut Bread variation: Decrease milk to 3/4 cup and add 1 cup mashed ripe banana (2 to 3 bananas)
Apricot Nut Bread: Decrease milk to 1/2 cup and add 4 teaspoons grated orange peel, 3/4 cup orange juice and 2 cups firmly chopped dried apricots.
Orange Nut Bread: Decrease milk to 1/2 cup and add 4 teaspoons grated orange peel and 3/4 cup orange juice.
Choco-Date Bars


1 cup salad oil
3 eggs
1 teaspoon vanilla
1 cup white sugar
1 teaspoon salt
2 cups jowar flour
1 tsp baking powder
1 cup brown sugar
1 teaspoon baking soda.
2 cups quick oatmeal
1 cup chopped dates
1 cup chocolate chips
1 cup chopped walnuts.
Preheat oven to 350 F. Lightly grease a 10-inch-by-16-inch jelly roll pan.
Beat salad oil and eggs until frothy. Mix together vanilla, white sugar, salt, jowar flour, baking powder, brown sugar and soda and add to egg mixture. Stir in the oatmeal, dates, chocolate chips and walnuts. Batter will be stiff.
Spread into the cookie pan and bake for 15-20 minutes, until puffed and browned. Cool and cut into bars.
Makes 32 to 40 bars.
For a chewier cookie, bake in 9-inch-by-13-inch pan for 25-30 minutes. Do not overbake. They are best if chewy.
Copyright 2018 The Associated Press. All rights reserved. This material may not be published, broadcast, rewritten or redistributed. We strive to uphold our values for every story published.