Shyra Monet McGee was remembered Monday as a charming, hard-working soul who tried to change the world.
About 200 people attended a memorial for McGee, a Kansas University student who died Feb. 4 in a traffic accident in Lawrence.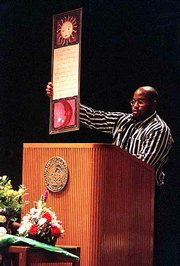 In a mixture of tears and laughter, family and friends gathered in Woodruff Auditorium at the Kansas Union and told stories about McGee's grace, unselfishness, and can-do spirit.
"She had truly believed that she was placed here to do some good for society," said Maryemma Graham, one of McGee's English professors.
Graham said during one class project, McGee composed an illustrated children's version of Ralph Ellison's "Invisible Man."
"I had never seen anything like it in my 20 years of teaching," Graham said.
All the speakers, including Shyra McGee's husband, John McGee, who was injured in the accident, talked about the 23-year-old's love of life, charitable nature and ability to get involved and get things done.
Aketia Thompson, who along with McGee founded the Sigma Gamma Rho sorority chapter at KU, said McGee lived a full life.
And nearly everyone mentioned McGee's "million-dollar smile."
"Shyra was at her best when sharing herself with others," said her friend Amber Sellers, a KU sophomore who also was injured in the crash. "Shyra always put people first."
McGee also was founder of the National Council of Negro Women chapter on the KU campus. She was an English and women's studies major and had received numerous awards for her involvement at KU.
She was a resident assistant at Stouffer Place. Her hometown was Wichita.
Authorities are still investigating the cause of the crash. The McGee car was northbound on Monterey Way when it was struck at the Sixth Street intersection by a westbound sport utility vehicle driven by Brandon Gentry, 30. Gentry was treated and released from Lawrence Memorial Hospital.
Copyright 2018 The Lawrence Journal-World. All rights reserved. This material may not be published, broadcast, rewritten or redistributed. We strive to uphold our values for every story published.