Charles Darwin the actor playing him, anyway took to the steps of Dyche Hall at Kansas University to a loud ovation from the crowd gathered Monday to celebrate his 192nd birthday.
"Thank you, Kansas," the Darwin impersonator said. "I hope I'm allowed to stay."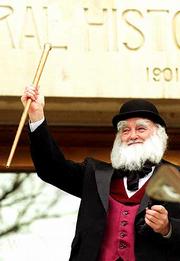 So do the KU scientists who played hosts to Monday's made-for-TV birthday party for which a CNN camera crew was on hand. The scientists were trying to draw attention to this week's Kansas State Board of Education meeting, where the board is expected to reverse its 1999 decision de-emphasizing evolution in Kansas science standards.
Liz Craig, a member of Kansas Citizens for Science, organized Monday's event. She said it was an attempt to balance the bad national and international coverage Kansas received after the board's 1999 decision.
The 2000 election saw power on the board shift to moderates who favor including Darwin's theory of evolution in the standards.
"There was a lot of making fun of Kansas for being backward," Craig said. "Now that they're about to reverse that, there should be some hoopla so that the world knows the voters of Kansas have voted for good science education.
"Besides," she added, "it's fun."
Though the scientists were exultant at the prospect of evolution returning to the state's science standards, they also sounded conciliatory notes.
"If I was taught evolution meant I came from monkeys or that I couldn't believe in God, I'd be concerned about the teaching of evolution," said Anne Maglia of KU's Natural History Museum. "But that's not what organic evolution is all about."
"Let's keep in mind that fundamental issues to society such as this aren't resolved in the polls or the courts," said Brad Williamson, an Olathe biology teacher who helped write the standards the board altered in 1999. "Those are only temporary solutions. The dialogue needs to continue."
The Kansas State Board of Education is scheduled to act on proposed new science standards that include evolution at 9:20 a.m. Wednesday in the Kansas State Education Building, 120 S.E. 10th Ave., Topeka.
Darwin himself played by Ron Willis, KU professor emeritus of theater and film didn't speak to the controversy directly. But some of his comments seemed to have double meaning.
"I've said this before," he said. "It is not the strongest who survive, nor the most intelligent, but those who are the most responsive to change."
Reader Reaction thread -
"Happy Birthday, Charles Darwin"
Copyright 2018 The Lawrence Journal-World. All rights reserved. This material may not be published, broadcast, rewritten or redistributed. We strive to uphold our values for every story published.