New York — Poo-Chi is soon to be hist-o-ri.
A new generation of electronic pets, that made its debut Sunday at the American International Toy Fair, are making last year's models look like windup toys.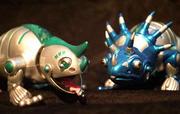 They tell jokes, sing round-robin with their robotic pals and wake you up when you want. One even plugs itself in for a recharge when its batteries run low.
At the forefront of the robotic trend is Hasbro's Tiger Electronics, which came out with a family of robotic pets starting last spring. Its Poo-Chi, one of last year's best-selling toys at $24.99, could respond to touch and light by barking and moving his tail.
Tiger is expanding with models like Chirpy-Chi, Dino-Chi and Robo Baby, and moving ahead with six more advanced robots like Ottobot, a wisecracking robot that has a 200-word vocabulary and built-in games, and T-Bot, which has 60 facial expressions. Prices are $30 to $50.
This May, it will offer I-Cybie, a $200 fully motorized talking dog that knows when its batteries are low and will follow an infrared beam back into its recharging base and plug itself in.
"Before, you had the child playing at the 'robot,' " said Ronnie Goldfinger, chief executive at Distributoys, a Highland, Ill.-based supplier to manufacturers. "Now, these robots are truly interacting. They're just beginning to make choices and are selecting between different emotions."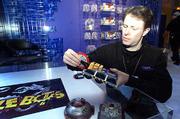 Jim Silver, publisher of the Toy Book, a monthly newsletter, foresees that by year 2010, people will be buying "best friends" at the store.
Stephanie Oppenheim, co-author of Oppenheim Toy Portfolio, an annual guide of toys, books and videos, complained that many of last year's robotic pets were difficult to use and said that such toys can stymie a child's creativity.
Allegra Holch, a 38-year-old New Yorker, bought robotic dogs last holiday season at Lord & Taylor for her 6-year-old niece, her 12-year-old nephew and her 75-year-old father. They weren't a big success.
Her gadget-minded father had trouble with the instructions, and her niece's toy dog quickly wound up in the back of the closet.
"It came with this confusing manual, and we couldn't figure out how to turn the barking off," she said. "I would be a little wary about trying the new robots out there."
Trendmasters Inc. will be producing three new robotic lines this year. Its Johnny Bot series will have different personalities, tell jokes and recognize people in a room. Rumble Robots will fight, gaining power through electronic cards. C-Pets will be various animal models, like a 12-inch wisecracking lizard that plays games and dances.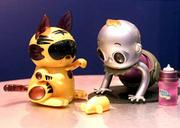 Manley Toy Quest, which produced a robotic puppy called Tekno last year, is coming out with a more sophisticated trio of lifelike, 16-inch exotic birds costing $70 each. The birds can sing in round-robin style, wake you up at a programmed time or follow you with their heads as you walk across the room.
Playmates Inc. is rolling out Ozlo, a 17-inch robot that has a humanoid voice and 20 minutes of speech stored on its chip. At $50, it plays memory games and interacts with the child as he fixes its parts.
Copyright 2018 The Associated Press. All rights reserved. This material may not be published, broadcast, rewritten or redistributed. We strive to uphold our values for every story published.