Sarah Elbayoumy bought a dictionary last week. A big dictionary.
The eighth-grader at Southwest Junior High School knew this would be the last year she could qualify for the state spelling bee, and she was going to pull out all the stops.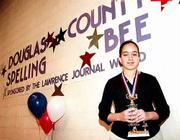 Elbayoumy's effort and the dictionary paid off Saturday as she outlasted 26 other competitors to win the Douglas County Spelling Bee.
"I was very nervous," she said. "I was shaking all over."
Elbayoumy may have had nerves, but she had been on the stage at the Lawrence Catholic School-St. John Campus gym before. The 13-year-old has won her school bee to advance to county competition the last five years. She won the county bee in 1999 and was runner-up the year before.
"She's been very tenacious," said event organizer Kathy Duffer. "It's great to see her coming back and coming back."
Saturday during early rounds, Elbayoumy correctly spelled words such as "embargo," "ludicrous" and "rhinoceros" while others fell victim to "aurora," "tardigrade" and "circumlocution."
Eventually, the only two spellers remaining were Elbayoumy and eventual runner-up Jack Berkowitz, a sixth-grader at Riverside School. Elbayoumy correctly spelled "herbivorous" and "versatile," and Berkowitz correctly spelled "felicity." But Berkowitz stumbled on "allegory," and Elbayoumy correctly spelled that word and "linguist" to win the bee.
Elbayoumy said she was lucky she was familiar with the words she was given to spell.
"I knew all the words I had to spell," she said. "But some of the other words he gave to other people, I was like, man, I don't know that."
Elbayoumy, the daughter of Moussa and Maggie Elbayoumy, is hoping to fare better in the state bee this year than she did two years ago, when she was 27th out of the 105 spellers. The state bee will be April 7 at Washburn Rural High School in Topeka, with the winner representing Kansas in the national spelling bee in May in Washington, D.C.
Words for Saturday's bee, which was sponsored by the Lawrence Journal-World, came from a list of 500 words in the Scripps Howard National Spelling Bee Handbook. Duffer said she thought the words were more difficult than in past years, but the bee lasted 1 1/2 hours and included 160 words, which is longer than usual.
"I was surprised they hung in there that long," Duffer said. "It's a sign that we have some excellent spellers."
Copyright 2018 The Lawrence Journal-World. All rights reserved. This material may not be published, broadcast, rewritten or redistributed. We strive to uphold our values for every story published.