Washington — Bad day for Generation H with the H standing for headband. Bad night, too.
Desmond Mason of the Seattle SuperSonics won the slam dunk contest at All-Star Saturday night when Baron Davis of the Charlotte Hornets couldn't make his final attempt while using a doctored headband as a blindfold.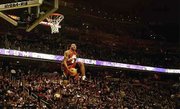 "I thought he could see through it at first, but obviously he couldn't. It was about 3 feet short when he tried to dunk it," said Mason, a rookie from Oklahoma State who beat Davis and Utah's DeShawn Stevenson in the final round. "It wasn't the strongest dunk contest ever, but it was fun doing it."
Earlier Saturday, every member of the rookie team donned this season's hottest NBA fashion accessory, and the youngsters with the exception of Orlando's Mike Miller certainly looked hip.
But the sophomore team, with their mostly unadorned foreheads, were the better team as they defeated the rookies, 121-113, in the rookie challenge.
Wally Szczerbiak of the Minnesota Timberwolves who does not wear a headband scored 27 points to lead the team of second-year players in a fast-paced, above-the-rim game featuring slams, no-look passes, alley-oops and little defense.
Szczerbiak finished with five three-pointers while shooting 11-of-13 from the field.
The game ended with Darius Miles of the Clippers missing a windmill dunk after the sophomore team's defenders stepped aside and let him have a clear path to the basket.
"I missed a windmill, man," said Miles, who wears a headband. "I never miss windmills."
In a show of solidarity, the rookie team all sported headbands, including Miller, who had never worn one before.
While all the other players had theirs properly placed above their ears, Miller wore his pulled over his ears like it was a ski cap he would wear on a winter day in his native South Dakota.
"Hey, I had to keep my ears warm. It was cold in the building," Miller said.
Local favorite Steve Francis of Houston, who left Maryland after his junior season, added 20 points for the second-year team. Quentin Richardson of the Los Angeles Clippers paced the rookies with 20.
"That was Miller Time style," Richardson said of Miller's headband variation. "That was very original."
Sacramento Kings forward Peja Stojakovic and Monarchs guard Ruthie Bolton-Holifield won the 2ball event, beating Cleveland's Trajan Langdon and Eva Nemcova 62-57 in the final.
Milwaukee Bucks guard Ray Allen hit 10 straight shots late in the final to defeat Stojakovic in the three-point shootout.
Copyright 2018 The Associated Press. All rights reserved. This material may not be published, broadcast, rewritten or redistributed. We strive to uphold our values for every story published.