Figural containers have fascinated collectors for hundreds of years. There were 18th-century perfume bottles shaped like women, 19th-century whiskey jugs in the form of judges and politicians and 20th-century lady-head vases.
They are all in demand. Lady heads that sold for $5 to $15 each in the 1980s now bring $100 to $1,000.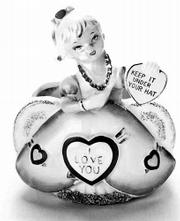 The best buys today for beginning collectors are probably other kinds of figural vases, like baby heads, clown heads and full-figure vases, that are still relatively inexpensive. Holiday figurals and nursery subjects are the real bargains. They can still be found at garage sales for less than $10.
Much of this floral pottery was made in Japan or Czechoslovakia and was imported to the United States.
Valentine flowers are still sold in clever containers that feature hearts and attractive women. Look for 1960s, '70s and '80s vases picturing girls in full-skirted dresses decorated with hearts. Marks could include "Made in Japan," "Made in Hong Kong" or importer's marks, like "Enesco," "Napco," "Relpo" or "Rubens." These holiday collectibles are sure to go up in value.
I am in my 80s and want to leave my antique platform rocker to my daughter. I would like to give her some history and an idea of the chair's value. According to the original nameplate attached to one leg, it is a "Hunzinger duplex spring platform rocker patented September 26, 1882." The rocker has an upholstered seat and a U-shaped back made of dowels and spheres.
George Hunzinger (1835-1898) immigrated to New York from Germany in 1855. He opened his own cabinetmaking shop in New York City in 1860. Hunzinger became well-known for his unusual designs. He patented 21 technical improvements for furniture, including the rocking device used on your chair. The Strong Museum in Rochester, N.Y., has a chair just like it. Your Hunzinger rocker would sell for more than $1,000.
I found a box of old family papers, and inside was a valentine made of small, cutout cupids, flowers and lace. On the back is printed a palette and easel, the initials "R.T.S." and the words "Publishers by Appointment to Their Majesties the King and Queen. Printed in Germany."
You have a valentine that was probably made after 1901, when Queen Victoria died. The mark refers to Raphael Tuck and Sons, an English firm. There was no king in Queen Victoria's day, so the card must have been made during the reign of King Edward and Queen Alexandra in the 20th century.
The cut-out cupids and flowers are called "scrap." They are small embossed and color-printed bits of paper that were and still are popular for decoupage, scrapbooks or other craft projects. Most valentines were handmade in the early 1900s.
l The Kovels answer as many questions as possible through the column. By sending a letter with a question, you give full permission for its use in the column or any other Kovel forum. Names and addresses will not be published. We cannot guarantee the return of any photograph, but if a stamped envelope is included, we will try. The volume of mail makes personal answers or appraisals impossible. Write to Kovels, Lawrence Journal-World, King Features Syndicate, 235 E. 45th St., New York, N.Y. 10017.
Copyright 2018 The Lawrence Journal-World. All rights reserved. This material may not be published, broadcast, rewritten or redistributed. We strive to uphold our values for every story published.