No matter how many check cards, Internet banks or online bill-payment systems financiers come up with, there's still no killing off traditional written forms when it comes to authorizing withdrawals from an account.
The old-fashioned check the write-it-down, rip-it-out and hand-it-over financial permission slip is holding its ground.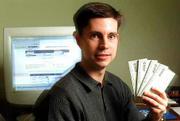 "I don't use the Internet at all. I don't trust it," said Tina Frick of Lawrence, who pays bills only by check or money order. "It's too easy for someone to get your account stuff. I don't even trust using credit cards, really.
"I want to see what I'm doing and have a written record. I just don't trust that other stuff."
Such is the uphill battle for banks, utilities and other businesses working to convince their customers that moving their finances from paper to digital blips can pay off.
Last year, the Federal Reserve Bank in Kansas City, Mo., processed 456 million checks, up nearly 10 percent from a year earlier and more than a third from the 329 million checks in 1995.
Diane Raley, a spokesperson for the regional bank, recalled a Social Security Administration snafu in 1998, when it mandated that all retirement payments must be handled through direct deposit.
"People went nuts," she said. "That told us: Definitely, the preference of the older population in the country is to stick with paper. They want to be able to go to the bank and see their money.
"It's clearly the preference of the consumer to stay with checks."
The popularity remains, despite the financial industry's best efforts to push for electronic transactions.
The motivation for companies is simple.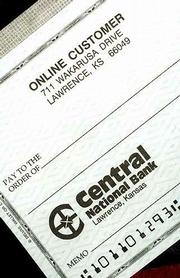 Cost savings
Banks pay an average of 23 cents to process each check, compared with 7 cents for an electronic transaction, said Chuck Stones, senior vice president for the Kansas Bankers Assn. in Topeka. The financial community has talked about moving to a "checkless" society for at least 20 years.
It's still waiting.
"It's hard to tell people that doing something else will make their lives easier, because their lives already are so easy," Stones said.
But that doesn't mean people are snubbing progress entirely.
At Topeka-based Capitol Federal Savings, which has four branches in Lawrence, checks account for 58 percent of all transactions. The remaining moves are handled through debit cards (23 percent), ATMs (18 percent) and office visits (1 percent).
An average Cap Fed account holder writes about 14 checks each month, while paying with a debit card eight or nine times a month, said Frank Wright, senior vice president for electronic banking.
Some retailers aren't waiting for customers to make the electronic switch. Equipment is available that allows clerks to scan written checks on the spot.
"They run it through the register, void the check and give it back to you," Wright said. "They handle it electronically. It's cheaper than having to process the paper item."
Electronic power
Utilities are trying to get in on the electronic push, with mixed success.
At city hall in Lawrence, finance director Ed Mullins said about 12 percent of the city's 27,000 utility accounts were handled through a direct-payment system. Customers agree to have the city deduct payments directly from their bank accounts, on a prearranged day.
Another 85 percent of customers still pay by check, Mullins said, with the rest using cash or credit cards.
Kansas City, Mo.-based UtiliCorp United, whose Kansas Public Service subsidiary provides natural gas in Lawrence, has about 10 percent of its customers hooked up to a direct-withdrawal system.
"When we save on operating costs, eventually the customer also saves," spokesman George Minter said.
Banks and other companies are creating even more pervasive bill-paying systems.
Two months ago Cap Fed started "True Blue Online," which allows participating account holders to use their own computers to arrange payments for a variety of bills. So far 8,400 of the bank's more than 100,000 customers have signed up.
At Central National Bank in Lawrence, 5.3 percent of the bank's customers use online bill payment. The typical customer uses the system to make eight payments a month for everything from a car loan to a fee for the baby sitter.
Rob Gillespie, the bank's vice president and director of online services, said that the most popular payees in town were the city of Lawrence, KPL, Southwestern Bell, Kansas Public Service and a variety of long-distance phone services, credit-card companies, newspapers and other media services.
It may take 10 years for electronic transactions to outpace paper, Gillespie said, but the day is approaching.
"It's almost inertia," he said, recalling his own personal switch to e-finances. "I've always written checks. I've done it. It works. I didn't even want a check card, but then I got one.
"Now I can't put it away."
Copyright 2018 The Lawrence Journal-World. All rights reserved. This material may not be published, broadcast, rewritten or redistributed. We strive to uphold our values for every story published.