"Reiki" (pronounced "ray-key") is a Japanese word that means "universal life force energy."
It's a gentle healing method that, Reiki practitioners say, taps into the unlimited energy of the universe. It flows into their hands healing, relaxing and reducing stress in their clients.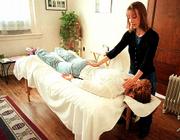 Reiki practitioners explain that transmitting Reiki is really channeling the unconditional love from which all life springs.
All this may sound a little funny maybe even flaky to the Western ear, but that's OK.
It doesn't bother Marta Schwartz, a massage therapist and Reiki master teacher who offers her services at the Lunaria Holistic Health Center, 1103 Mass., 841-1587.
She's a believer.
"Some people think it's kind of hokey. I've had some really skeptical people. Then I'll do some Reiki on them and they'll say, 'Oh, that feels different,'" Schwartz says.
"It doesn't matter if they're skeptical or not. I'll still be able to transmit Reiki to them."
You might have never heard of Reiki, but Schwartz thinks it's just a matter of time.
"I believe that within the next 10 years, this system will be accepted even by insurance," she says.
Schwartz is one of a handful of Reiki practitioners in Lawrence, some of whom, like her, are able to train others to transmit this healing method. There are five staff members at Lunaria who are Reiki practitioners.
Reiki is also offered by Janeine Cardin, a certified massage therapist and Reiki master who owns Chrysalis Massage Therapy, 2104-E W. 25th St., suite B-1, 842-4430.
Marcia Butell, the owner of Rejuvenay Spa, 1311 Wakarusa Drive, suite 2118, 865-4372 or 843-7967, is a CMT and provides Reiki therapy. And Nancy Gardner, CMT, 841-6554, offers Reiki energy work in Lawrence by appointment only.
It's all in the hands
Reiki, Schwartz says, helps in healing injuries from small cuts to major physical and emotional traumas, including both chronic and acute disease processes.
A Reiki treatment involves one or a series of hand placements on or near the body that's supposed to open the channels within and between the participants, letting universal healing energy to flow to the places where it's most needed, Schwartz explains.
When receiving Reiki, most people report feeling an increased sense of relaxation and well-being. The energy can feel warm or hot. It can even feel cold or have a vibratory quality.
The list of conditions that Reiki is said to improve is long: everything from post-surgery recovery to prostate problems, from insomnia to addictions.
"Reiki, which is a form of natural healing, helps improve just about everything," Schwartz says. "I never, ever guarantee complete healing. But I've seen it."
Schwartz charges $50 for a one-hour session of Reiki. The frequency of Reiki treatments depends upon the condition the client is working to heal, and the client's goals for the therapy.
The other Reiki practitioners at Lunaria also charge $50 for a one-hour session.
Cardin at Chrysalis Massage Therapy charges $40 a one-hour session. Butell at Rejuvenay Spa charges $30 for a half-hour of Reiki treatment and $60 for an hour.
Gardner charges $40 for a one-hour session and $55 for 1 1/2 hours of Reiki.
Effective or not?
How can we be certain whether or not Reiki really works?
"I don't know of any empirical studies that have been done. I think they're being done right now," Schwartz says. "Sometimes it's really hard to monitor (a client's progress) and to know that it was actually Reiki that did this. But people do get better faster."
Dorothy Embers comes to Schwartz for a Reiki session every other week.
Two years ago, Embers had surgery. She swears Reiki helped her healing process.
"When I went into the hospital, I was calm. Afterward, when I went to the doctor for my check-up, he said I was coming along a lot faster than people usually do," she says.
Even now, Reiki helps her relax and cope better with the stress of life.
"I'm not tired anymore, I'm not stressed anymore and I feel good," Embers says.
Copyright 2018 The Lawrence Journal-World. All rights reserved. This material may not be published, broadcast, rewritten or redistributed. We strive to uphold our values for every story published.