By the time the flurries stopped Friday afternoon, Lawrence was covered with 3 inches of snow. But it could have been worse.
Those to the north and west sludged through heavier amounts. Topeka's snowfall measured 5 inches, Manhattan had 8 inches, and Republic County, north of Concordia, saw 15 inches of snow.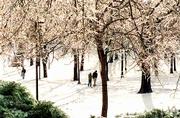 "It's going to be very cold for a while," said Steve Kays, National Weather Service meteorologist. "It's hard to warm up when there's so much snow and ice on the ground. Through this next week, it'll be a struggle to reach the upper 30s."
The icy roads closed Lawrence schools and morning classes at Kansas University on Friday. At noon, Lawrence Supt. Randy Weseman watched snow pile up outside a window at district headquarters.
"If we had kids now, we'd be worried about getting them home," he said.
School administrators decided that the lost class time will be made up on June 4. Friday was the fourth day classes were canceled this school year because of weather the other three were Dec. 11, 12 and 13, days which will be made up in April.
KU also canceled morning classes on Friday the first time for a partial closing since December 1997. The most recent date that KU didn't have class for an entire day was in December 1992.
Temperatures bottomed out Friday night and were expected to reach a low of about minus 5. Today wasn't expected to be much better, with a high of about 20.
Highs should reach the lower to mid-30s on Sunday and last through Wednesday. Tonight and Sunday will see a slight chance of rain or snow, but a better chance of snow should reach the area by Wednesday or Thursday, Kays said.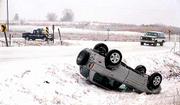 More than 3,500 Lawrence KPL customers lost power during the early morning hours on Friday, KPL spokeswoman Cynthia McCarvel said. By 11 a.m., electricity had been restored to all but 300. By 2 p.m., that number was down to 95.
A number of ice-coated power lines fell, along with two utility poles in North Lawrence. KPL began sending workers to repair the lines at about 2 a.m. Extra workers were called in from Olathe later Friday morning, McCarvel said.
"We're just thankful that the wind wasn't any worse than it was," she said.
Roughly 6,000 lost power near Wichita, and about 3,500 near Leavenworth were without lights early Friday. Nearly all were restored later that morning.
Dozens of traffic accidents were reported to Douglas County area law enforcement agencies and the Kansas Highway Patrol, but most were fender-benders or vehicles that had slid into ditches, dispatchers said.
No weather-related serious injury accidents were reported in Douglas County.
The weather was thought to be a factor in a crash that killed a Girard woman and critically injured her 6-year-old daughter. Lisa A. Thurman, 26, was driving on U.S. Highway 400 east of Parsons when she lost control on a bridge, struck a guardrail and bounced into oncoming traffic, where she collided with a pickup truck.
Legislators also had to cancel a trip to Hutchinson, where they had planned to present city officials with relief aid from the state to help families displaced by the recent natural gas explosions in the area.
Lawmakers, including Kansas Senate President Dave Kerr, R-Hutchinson, and Rep. Mike O'Neal, R-Hutchinson, were scheduled to fly from Topeka this morning with a check for $75,000, money intended to help families with relocation, utilities, food and other emergency services, according to a news release from Kerr's office.
Copyright 2018 The Lawrence Journal-World. All rights reserved. This material may not be published, broadcast, rewritten or redistributed. We strive to uphold our values for every story published.