In the interest of bipartisanship, Molly Ivins offers a deal: She'll stop saying President George W. Bush lost the election, if Bush's supporters will stop saying he won it.
Ivins, a nationally syndicated columnist and longtime Bush critic, on Friday was at Kansas University to accept the William Allen White Foundation's national citation.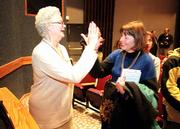 In a news conference before her public address, Ivins criticized media coverage of the presidential race and subsequent vote challenge in Florida by Democrat Al Gore.
And she lambasted Bush's first initiatives in office, especially his proposed tax cut.
"He's so lucky that if they tried to hang him, the rope would break," Ivins said of Bush, though she added, "The rope did break in Florida. I will always believe Gore won Florida."
She said the moment that typified for her the media coverage of the campaign came in the wee hours after Election Day.
She was in a media tent set up on Congress Avenue in Austin, Tex., and all of Bush's staff had gone home.
"There was no one left to spin us," Ivins said, and national reporters were left wondering what to do.
The media "doesn't know how to do anything but cover spin," she said.
Ivins decried the legions of pundits on television news and political shows, saying they have "been plucked right off the front lines of partisan politics warfare" and have no journalistic experience.
She said they should be made to cover a five-car accident and interview witnesses each of whom could have a different version of events.
"It will give you a certain respect for the complexity of truth, and it will also cut down your certitude,"' she said.
The media, with the exception of some newspapers in Florida, missed the story on the voting irregularities there, she said.
Because of the closeness of the vote in Florida, Gore asked for recounts in several counties. Eventually, the U.S. Supreme Court, in a 5-4 decision, stopped the recounts.
Ivins said the media framed Gore's challenge as unprecedented and then trivialized the task of having to analyze punch-card ballots.
But in reality, she said, close elections are not that uncommon, and having to analyze ballots to discern a voters' intent is standard procedure.
She said Bush had taken a confrontational stance since entering the White House, especially with his proposed tax cut.
She said 42 percent of the tax cut would go to the wealthiest 1 percent of the country. "It's class warfare to pass this tax cut," she said.
Ivins' latest book, "Shrub: The Short but Happy Political Life of George W. Bush," is a critical examination of Bush's record when he was governor of Texas.
Ivins, now a columnist at the Fort Worth (Tex.) Star-Telegram, is a former co-editor of the Texas Observer, and has worked for the New York Times, Houston Chronicle, Dallas Times Herald and Minneapolis Star-Tribune.
She said she was honored to receive the White citation. "He was clearly a progressive. I've always admired him," she said.
Previous winners of the White award include Bob Woodward, George Will, Walter Cronkite, Helen Thomas, David Broder, Bill Kurtis and Ellen Goodman.
Later she addressed a standing-room-only crowd of about 300 at the Woodruff Auditorium. She received a standing ovation.
"I thought she was wonderful," said Linda Cowles, a registered nurse with the Lawrence-Douglas County Health Department whose husband, Dr. Alan Cowles, was a high school classmate of Ivins.'
"We read her column all the time," Cowles said. "I love her candor."
Copyright 2018 The Lawrence Journal-World. All rights reserved. This material may not be published, broadcast, rewritten or redistributed. We strive to uphold our values for every story published.