New York — Derek Jeter would rather count World Series rings than money.
Still, after 13 months of negotiations, he sounded overwhelmed Friday when the New York Yankees rewarded him with the second-highest contract in sports history, a $189 million, 10-year deal.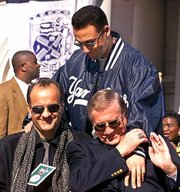 "I think everyone's blown away by the numbers," the shortstop said. "I don't sit down and look at the numbers. I look more at that I have the chance to stay here."
As soon as he got word Friday that owner George Steinbrenner had finalized the deal, he called his parents and his sister to express relief that he would spend the next 10 years with the Yankees.
"They're very proud of me," said Jeter, MVP of the World Series and All-Star game last season. "I think they're more proud because I'm happy."
Jeter, 26, could have become a free agent after this season and learned his worth on the open market, perhaps breaking the salary record Alex Rodriguez set in December with his $252 million, 10-year deal with Texas.
"I couldn't picture it," Jeter said. "I really felt there was no reason to see if the grass was greener on the other side. Even if I had played out the year, my first choice would have been New York. I never intended to play elsewhere, and to be honest with you, never intended to look elsewhere."
In the five seasons since Jeter joined the Yankees, New York has won four World Series, including the last three, a run matched only by the Joe DiMaggio Yankees of 1939-43, the DiMaggio-Mickey Mantle Yankees of 1949-53 and the Oakland Athletics from 1972-74.
Only Yankees DiMaggio and Mantle (24), and Billy Martin (25) had played on four World Series winners at a younger age.
Jeter, though, knows he has a long way to go to match Yogi Berra, who played on 10 Series champions and 14 AL pennant winners with the Yankees.
"Yogi is constantly finding his way to my locker," Jeter said, "reminding me how many rings I need to catch up with him."
Joe Torre holds a special fondness for Jeter, who arrived in New York during Torre's first season as the Yankees' manager. For five years, Torre has been saying Jeter is a special player.
Jeter still calls him "Mr. Torre."
"Derek Jeter embodies everything the Yankees are about," owner George Steinbrenner said. "There are some things that cannot be defined by batting average, home runs and runs batted in. Equally important are an athlete's heart and desire."
While many call Jeter the Yankees' leader, Jeter doesn't view himself that way. He spoke with Steinbrenner about that earlier this week.
"He wants me to be a leader, so to speak, but I think that's something that just goes along with how I played in the past," Jeter said. "I don't tell everyone I'm a leader. I just go out and play hard. I'll just continue to do what I've been doing."
Jeter hit a team-leading .339 last season with 15 homers and 73 RBIs. His 996 hits in the last five years is the most of any major leaguer and he become only the third Yankee with three straight 200-hit seasons, joining Lou Gehrig (1927-29) and Don Mattingly (1984-86).
Yankees president Randy Levine and IMG's Casey Close, the agent for Jeter, finalized details of the deal Friday morning and Steinbrenner, who failed to finalize a tentative $118.5 million, seven-year contract last winter, than gave his final approval.
The contract raises the Yankees' payroll to $99,935,143 for 21 signed players, with closer Mariano Rivera still in arbitration and expected to get a salary of $9 million to $10 million.
Jeter gets a $16 million signing bonus payable over eight years, $11 million this season, $13 million in 2002, $14 million in 2003, $17 million in 2004, $18 million in 2005, $19 million in 2006, $20 million in each of the following three seasons and $21 million in 2010.
Counting his $10 million salary under last season's one-year contract, Jeter will get $114 million for the years 2000-06. By waiting, Steinbrenner actually will pay $4.5 million less for those years than he would have under last year's tentative agreement, but he was forced to guarantee Jeter an additional four years, paying $85 million over that period.
Using a 6 percent interest rate, the Yankees calculated the average annual value of both deal in present-day dollars at $13.5 million.
While Rodriguez, Jeter's friend, will receive $100 million in the first five years of his contract, Jeter will receive $83 million. He said he agreed to backload the contract to give the Yankees' flexibility.
"You want to have the opportunity to go out and sign guys like David Justice if you need him, to sign a pitcher if you want to," Jeter said.
By any calculation, he'll be well paid. Jeter was asked how he would mark the deal's completion, and he responded by referring to the start of spring training next week.
"I don't really have time to celebrate," he said. "You celebrate after you win the World Series."
Copyright 2018 The Associated Press. All rights reserved. This material may not be published, broadcast, rewritten or redistributed. We strive to uphold our values for every story published.