Fort Benning, Ga. — Around this home of the glory-covered Army Rangers, the black beret is a badge of honor recognized even by children.
The distinctive headgear, tilted in a way that gives those who wear it a fearsome swagger, is worn only by the Rangers, a small, elite force that is tapped for some of the most hazardous and demanding missions.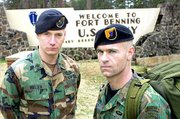 But starting this summer, as part of an Army push to boost morale, every soldier, right down to buck private, will wear the black beret, regardless of whether they work in the motor pool or lead commando raids.
Emmett Hiltibrand, a retired Ranger and Vietnam veteran from nearby Columbus, said most Rangers don't like it but have been ordered not to discuss it.
"The Rangers are not Rangers just to wear the beret," said Hiltibrand, president of the 75th Ranger Regiment Assn. "They are Rangers because they are a different cut of cloth. The Rangers have made the black beret famous and it belongs to them."
The decision came from Army Chief of Staff Gen. Eric Shinseki, who hoped the black beret would be a symbol of unity that would show that "soldiers of the world's best army are committed to making ourselves even better." The move takes effect starting on June 14, the Army's birthday.
Currently, only three types of units are authorized to wear berets: Airborne units wear maroon berets, Special Forces wear green (and are known famously as the Green Berets) and Rangers wear black.
An editorial in the Columbus Ledger-Enquirer said: "Issuing a beret to every soldier who is sworn into the Army is like putting a Cadillac hood ornament on a Pinto."
The 2,000-member Ranger force is one of the most storied units in U.S. history. They are often used for missions that require lightning strikes.
The Rangers were the first soldiers to scale the cliffs at Omaha Beach on D-Day. They parachuted into Panama in 1989 and went to Somalia in 1992-93. During that mission, 18 Americans including six Rangers from Fort Benning were killed in a failed attempt to capture a Somali warlord.
Two former Rangers, Dave Scott of Bozeman, Mont., and David Nielsen of Leesburg, Va., are marching 700 miles from Fort Benning to Washington to protest the wider use of the black beret.
"If everyone is issued a black beret without meeting the Ranger standards, it will completely diminish the value of the beret," Scott said.
Copyright 2018 The Associated Press. All rights reserved. This material may not be published, broadcast, rewritten or redistributed. We strive to uphold our values for every story published.