Snowfall should start diminishing by midday today, but not before dumping up to about 4 inches across Lawrence and other parts of northeast Kansas, weather officials said Thursday.
And if snow weren't bad enough, the layer of ice underneath it could make travel treacherous this morning. The ice is the result of freezing rain that preceded the winter storm, which entered overnight.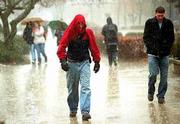 "It'll be a potent winter storm," Paul Frantz, National Weather Service meteorologist in Topeka, said Thursday. "It'll pack a punch, and if you don't have to be anywhere, you'd best stay put."
The NWS on Thursday issued the winter storm warning, predicting that freezing rain would arrive late and last until after midnight. After that, a colder air mass would arrive, bringing snow, a low temperature of about 20 degrees and north winds blowing from 15 to 25 mph.
The storm hit western Kansas hard Thursday, causing traffic accidents throughout the region.
A high temperature of 22 degrees was predicted for today in Lawrence, and clearing skies tonight could bring single-digit lows, along with below-zero wind chills, to the area.
And though power failures can't be predicted, KPL crews were poised Thursday night to deal with any outages, said Mark Schreiber, KPL spokesman.
"We're ready to respond," he said. "Our people watch the weather forecasts, and we know what we'll be up against. But since weather is sometimes unpredictable, we just have to wait, unfortunately."
The rainfall for Lawrence from midnight Wednesday to 6 p.m. Thursday was .76 inches the highest area precipitation total reported to the NWS office in Topeka. The station at Forbes Field in southeast Topeka reported .66 inches. Emporia received .55 inches, Manhattan .33 inches and Concordia .29 inches.
Copyright 2018 The Lawrence Journal-World. All rights reserved. This material may not be published, broadcast, rewritten or redistributed. We strive to uphold our values for every story published.