His two starting guards were out. His leading scorer can't practice so she doesn't start.
What? Lawrence High girls basketball coach David Platt worry?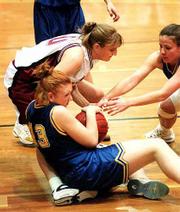 "We had kind of a rag-tag lineup in there, but they stepped it up," Platt said.
Lawrence, in fact, led by a point midway through the third quarter before eventually bowing to Olathe South, 51-37, on Thursday night in the LHS gym.
Starting point guard Ashley Burnett suffered a season-ending knee injury in last Monday's loss at Olathe North. Burnett is scheduled for surgery on Feb. 20 to repair ACL damage.
Burnett, a junior, is also the starting pitcher on Lawrence High's softball team and, said Platt, "She's probably done for softball, too. It's a real shame."
Backcourt mate Leigh DeBiasse also sat out Thursday night after suffering an allergic reaction to medicine. DeBiasse didn't suit up.
Mandy Amyx, the Lions' leading scorer with a 10.9 average, came off the bench and matched her average with 11 points. Amyx doesn't start because a respiratory problem prevents her from practicing.
Yet with all the Lions' personnel woes, they hung close, trailing 17-16 at halftime, then grabbing a 21-20 lead with 4:12 remaining in the third quarter on an Amyx basket.
Then the wheels fell off. The Falcons went on an 11-0 run punctuated by five consecutive Lawrence turnovers. However, it wasn't the turnovers, Platt stressed, as much as the Lions' reaction to them.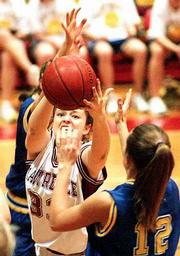 "Sometimes we still have the ability to lose focus and feel sorry for ourselves after a turnover," Platt said. "We just weren't guarding people. They weren't using any innovative offense out there. We just weren't guarding them during that stretch. We've got to get better at feeling sorry for ourselves."
It's been a struggle for the Lions, now 3-11 overall and 1-3 in the Sunflower League. They've lost seven in a row, they're 1-6 at home and they're assured of their fifth straight losing season.
At least there was reason to be optimistic about the first-half performance.
"We paced ourselves better in the first half than we usually do," Platt said. "Historically, we've tried to force things too early, but we did a good job tonight."
Olathe South, 9-7 overall and 4-3 in the league, was led by junior Johanna Kamberg's 16 points.
Olathe South won the junior varsity game, 48-37. Rachael Klingler led the Lions with eight points. Jenna Wilcox and Audrey Pope added six apiece.
Next for the Lions is a Saturday trip to Shawnee Mission East.
Olathe South 51, Lawrence 37
OLATHE SOUTH (51)
Rachel Jensen 0 2-4 2, Melissa Postlethwait 3 2-2 8, Johanna Kamberg 6 2-4 16, Stephanie Grieb 4 4-4 12, Jessica Moppin 1 1-2 3, Brandi Wolf 3 4-5 10, Alisha Dierks 0 0-2 0. Totals 17 15-23 51.
LAWRENCE (37)
Tayler Guntert 2 2-2 8, Rachel Severance 3 0-0 6, Emily Schwartz 3 2-4 8, Cat Ross 0 0-0 0, Hallie Fitzgerald 0 0-2 0, Mandy Amyx 3 5-6 11, Morgan McMichael 1 0-2 2, Rachel Klingler 1 0-0 2. Totals 13 9-16 37.
Olathe South 11 6 15 19 51
Lawrence 8 8 7 14 37
Three-point goals: Olathe South 2 (Kamberg 2); Lawrence 2 (Guntert 2). Total fouls: Olathe South 17, Lawrence 17. Fouled out: None.
Copyright 2018 The Lawrence Journal-World. All rights reserved. This material may not be published, broadcast, rewritten or redistributed. We strive to uphold our values for every story published.