Midge Grinstead was in dog heaven.
After more than a year of planning, the director of the Lawrence Humane Society helped break ground on a 5,000-square-foot addition to the city's animal shelter Wednesday. The new space will more than double the number of animals the shelter can house.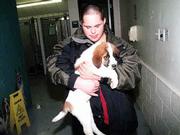 "I feel like I've been smiling all day," Grinstead said.
Lawrence's growth has put a strain on the Humane Society in recent years. The 10,000-square-foot building, 1805 E. 19th St., can house about 40 stray animals and 80 animals waiting for adoption. The addition will provide space for about 140 more animals, with more space available to add kennels in the future.
Grinstead said the city added a third animal control officer in September 1999, which helped lead to a 61 percent increase in stray animals at the center the following year. The shelter handled 6,000 animals during 2000.
When they built the current building in 1995, Humane Society officials expected it to last until 2020. Grinstead said they could have rearranged their space to accommodate more animals, but that would have compromised the quality of services.
"If we put a Band-Aid on it, we could go another five years maybe, but our euthanizations will go up," she said. "We want to be able to provide the other services we offer and go on as we should to have the shelter Lawrence deserves."
Grinstead takes pride that the number of euthanizations at her facility has decreased despite its increase in animals. That means more animals are being adopted. Although final numbers weren't available for 2000, the shelter euthanized 672 animals during 1999, down from 801 the previous year.
"We take any animal regardless of age or illness, and we can work with them," Grinstead said. "Even those that are blind and deaf we can get adopted out, and we find the right home."
The shelter tends to euthanize more animals when it is full, Grinstead said. Workers also have had to keep small dogs in cat carriers or take animals to veterinarians overnight to accommodate overcrowding.
"You just can't say no," Grinstead said. "You can't because you're afraid someone will go back out and drop it off."
The addition will open in May. Four more employees will be added to the nine-member staff to handle the increase in animals.
The Lawrence Humane Society, which will celebrate its 50th anniversary in March, is a nonprofit organization that receives most of its funding through private donations. The city of Lawrence will pay $225,000 to the shelter this year because it serves as the city's animal pound. That's about $50,000 more than 2000 to help cover the higher operating costs with the addition.
The Humane Society has raised $273,000 so far to pay for the addition, which will cost $425,000 to $560,000. The contractor, Durflinger Homes, is donating its time for the project.
"We're going to build it and borrow the money if we have to," Grinstead said. "I don't want to do a lesser job for the citizens or for the animals."
Copyright 2018 The Lawrence Journal-World. All rights reserved. This material may not be published, broadcast, rewritten or redistributed. We strive to uphold our values for every story published.