Los Angeles — Dale Evans, the singer-actress who joined with husband Roy Rogers in popular Westerns and co-wrote their theme song, "Happy Trails to You," died Wednesday at 88.
Evans died of congestive heart failure at her home in Apple Valley in the high desert east of Los Angeles, said Dave Koch, son-in-law of Evans' stepson, Roy "Dusty" Rogers Jr. She had suffered a heart attack in 1992 and a stroke in 1996.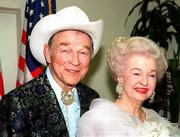 Evans' son and other family members were at her side. A memorial service will be held Saturday, Koch said.
She was the "Queen of the West" to Rogers, the "King of the Cowboys." She rode her horse, Buttermilk, beside him on his celebrated palomino, Trigger. The first movie she made with Rogers, already an established singing cowboy star, was "Cowboy and the Senorita" in 1944. They married in 1947, and together appeared in 35 movies, including such Saturday afternoon favorites as "My Pal Trigger," "Apache Rose" and "Don't Fence Me In."
When the B Western faded in the early 1950s, they began their television career. "The Roy Rogers Show" ran from 1951 to 1957; later incarnations included "The Roy Rogers and Dale Evans Show," 1962, and "Happy Trails Theatre," 1986-89, a show of repackaged Rogers and Evans movies on cable TV's Nashville Network.
In 1951, she co-wrote "Happy Trails," which became their theme song. She also wrote the 1955 gospel music standard "The Bible Tells Me So," with the refrain, "how do I know? the Bible tells me so." She and Rogers recorded more than 400 songs. Their most recent album was "Many Happy Trails," recorded in Nashville in 1985.
Rogers died in July 1998 at age 86.
Through her life, she was active in Christian evangelism, which she called "the most meaningful, the most enjoyable part of my life."
"She was one Hollywood personality who truly lived what she preached," said longtime friend Johnny Grant, the honorary mayor of Hollywood. "She was a strong supporter of the family and religion."
She wrote more than 20 books, including the best-selling "Angel Unaware," a poignant account of their daughter, Robin, the only child born to the couple. Robin, who had Down syndrome, died of complications from the mumps shortly before her second birthday in 1952.
It wasn't the couple's only taste of tragedy. Korean-born Debbie, one of the couple's adopted children, was killed with seven others in a 1964 church bus crash; the following year, their adopted son John choked to death while serving in the Army in Germany.
"In the Bible, it doesn't say you're going to get by without having troubles," Rogers once said.
The couple also adopted another daughter and raised a daughter by foster parenthood. In addition, Evans had a son by a previous marriage, and Rogers had a son and two daughters, one of them adopted, with his first wife, Arline. She had died in 1946, shortly after giving birth to Roy Jr.
Evans was born Frances Octavia Smith on Oct. 31, 1912, in Uvalde, Tex. When she was a girl her family moved to Osceola, Ark., where she attended high school.
She became Dale Evans during her brief stint in Tennessee. Initially, she used her married name, Frances Fox, and then Marian Lee. Over her protests, the station manager changed it to Dale Evans, because he felt it was "euphonious" and would roll easily from the lips of announcers. From local radio singing jobs, she worked up to national radio, signing on in 1940 as a singer on a weekly CBS radio show "News and Rhythm." Shortly afterward, she started working in Hollywood, appearing in films such as "Orchestra Wives" and "Swing Your Partner."
Copyright 2018 The Associated Press. All rights reserved. This material may not be published, broadcast, rewritten or redistributed. We strive to uphold our values for every story published.