Chocolate is the star of many a Valentine's treat, and it lends its always popular flavor to this sweetheart of a dessert.
The chocolate cheesecake can be topped with plain or chocolate-covered strawberries, whipped cream or other fancy inspiration of your choice. Remember, excess is never out of place on this holiday.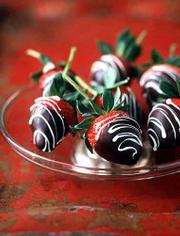 The cake uses unsweetened cocoa powder, quick and easy to mix helpful in freeing up the cook to be sociable.
Sweetheart Chocolate Cheesecake
----
For Chocolate Crumb Crust:
1 1/2 cups vanilla wafer crumbs (about 45 wafers)
6 tablespoons powdered sugar
6 tablespoons powdered unsweetened cocoa
6 tablespoons melted butter or margarine
For filling:
Three 8-ounce packages cream cheese, softened
1 1/4 cups sugar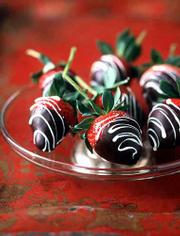 2 teaspoons vanilla extract
1/2 cup dairy sour cream
1/3 cup unsweetened cocoa powder
1 tablespoon all-purpose flour
3 eggs
To prepare Chocolate Crumb Crust:
Preheat oven to 350° F. Stir together wafer crumbs, powdered sugar, 6 tablespoons cocoa and the melted butter or margarine. Press mixture onto bottom and 1/2- to 1-inch up side of 9-inch springform pan. Bake 8 minutes. Cool slightly.
To make cheesecake:
Heat oven to 450° F. Beat cream cheese in large bowl until fluffy. Gradually add sugar and vanilla, beating until smooth. Beat in sour cream. Add cocoa and flour; beat until blended. Add eggs; beat just until blended. Pour batter into prepared crust.
Bake 10 minutes. Reduce oven temperature to 250° F. Continue baking for 40 minutes or until set. Remove from oven to wire rack. With knife, loosen cake from side of pan. Cool completely; remove side of pan. Cover; refrigerate 4 to 6 hours.
Just before serving, garnish with chocolate-covered strawberries, or other topping, if desired. Cover; refrigerate leftover cheesecake.
Makes 12 servings.
Nutrition information per 1-slice serving: 620 cal., 27 g total fat (19 g saturated fat) 105 mg chol., 380 mg sodium, 84 g carbo., 9 g pro.
-- Recipe from Hershey's.
Black and White Chocolate Strawberries make a sweet, but not too rich, treat to pop into your Valentine's mouth.
Strawberries are suggested as the fruit that gets the chocolate coating, but you can try it with other fruits, too. Grapes, orange sections, apple or pear wedges or banana chunks would work nicely. Dip apples, pears or bananas in a mixture of lemon juice and water to prevent browning. It's also delicious made with fat-free pretzels.
Black and White Chocolate Strawberries
----
1/4 cup plus 2 tablespoons semisweet chocolate chips
1 1/2 teaspoons raspberry liqueur (framboise)
1/2 ounce white chocolate, chopped, or 2 tablespoons white chocolate chips
2 cups whole strawberries
Line a large baking sheet with wax paper. In a small microwavable bowl, combine the chocolate chips, liqueur and 1 1/2 teaspoons water; microwave on high heat, stirring twice, until melted and smooth, about 1 1/2 minutes. Holding a berry by the hull, dip the berry halfway into the chocolate; set on wax paper. Repeat with the remaining berries and chocolate.
In another small microwavable bowl, melt the white chocolate in the microwave on high heat, stirring once, until melted and smooth, about 1 minute. Dip a fork in the white chocolate; drizzle over the strawberries. Refrigerate until the chocolate hardens. Served chilled. Makes 4 servings.
Nutrition information per serving: 97 cal., 4 g total fat (2 g saturated), 0 mg chol., 4 mg sodium, 15 g carbo, 2 g dietary fiber, 1 g pro.
-- Recipe from "Weight Watchers New Complete Cookbook" (Hungry Minds, $16.95 paperback).
Copyright 2018 The Associated Press. All rights reserved. This material may not be published, broadcast, rewritten or redistributed. We strive to uphold our values for every story published.