Washington — A man brandishing a gun outside the White House fence was shot by a Secret Service officer Wednesday after a 10-minute standoff, officials said. The episode triggered a tight security clampdown.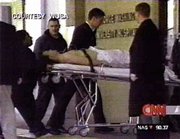 President Bush was safe in his residence, exercising, at the time. Vice President Dick Cheney was working in his office. Laura Bush was at the family ranch in Crawford, Texas.
The wounded man was Robert W. Pickett, 47, of Evansville, Ind., according to law enforcement officials. He was taken to nearby George Washington University Hospital where he was to undergo surgery.
Secret Service officers on patrol heard shots fired about 11:30 a.m., White House press secretary Ari Fleischer said. They spotted a man holding a gun, some distance from the southwest gate.
The officers had "a 10-minute standoff that was followed by one shot to the suspect's leg and he was taken into custody," Fleischer said. He said the gunman's wound was not life-threatening.
Secret Service spokesman Marc Connolly said an officer fired one shot, which struck the gunman in the right knee, and no shots were fired by the man during his encounter with police. However, law enforcement officers were investigating whether the man fired shots before police approached him.
Law enforcement sources, speaking on condition of anonymity, said authorities were investigating the possibility the man was trying to provoke a shooting by police.
The suspect, who was carrying a handgun, was not listed in Secret Service files as a known threat to the president, law enforcement sources said.
Neighbors back home described Pickett as a friendly man, an accountant who had lived in a modest home in Evansville and kept a neat lawn. He frequently jogged.
"I was really surprised. As far as I knew, he was an outstanding neighbor," said Lewis Gates.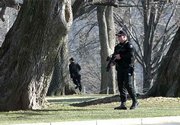 Secret Service agents were using metal detectors in an effort to find shell casings to determine how many shots were fired in the incident.
Connolly said the man had been "brandishing a gun."
A witness said she heard a popping sound, followed by smoke. After that, Secret Service officers "told him to 'drop it"' and then sit down. And then he "slowly sat down on the ground," said the witness, Sook Jo from Centreville, Va.
Dan Halpert, a tourist from Queens, N.Y., was headed to the Holocaust museum, across the Mall from the White House, when officers told him to get down and clear the area.
"We were all running away. It was scary," said Halpert, 24.
Another witness Martin Manley told CNN the gunman "was just standing in the street and randomly fired a few shots."
He said the man jumped into bushes, was surrounded by police but initially refused to surrender.
"Police were talking to him, telling him 'it doesn't have to be this way, put the gun down,"' Manley said. "Then I heard one shot and the police all rushed in."
Connolly, the Secret Service spokesman, said nobody else was injured, and the gunman never was inside the White House fence.
Plainclothes police officers were guarding the emergency room entrance where the man was taken. Secret Service agents and police surrounded the White House.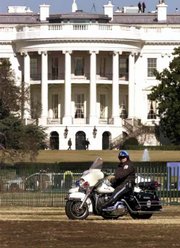 Rep. Bob Clement, D-Tenn., said he was attending a White House meeting when the Secret Service alerted people there had been a shooting "and not to leave the White House. ... Believe it or not, it was very calm where we were."
At the Treasury Department next door, the entrance between the department and White House was immediately closed.
Security has been tightened in and around the White House in recent years. The most significant change was the closing of the section of Pennsylvania Avenue that passed in front of the Executive Mansion. Wednesday's incident was on the opposite side of the White House, the back side facing toward the Washington Monument.
In May 1995, the Secret Service shot a man who scaled a White House fence, carrying an unloaded gun. An official said at the time the man had asked to see President Clinton.
Nine months earlier, a pilot died when he crashed a small plane on the South Lawn of the White House. About a month later, a man pulled a rifle from under his trench coat and sprayed the front of the White House with bullets.
More than a mile east of the White House, in the summer of 1998, a gunman went on a shooting spree in the U.S. Capitol, killing two policemen.
Russell Eugene Weston, 43, has been held since then. He has not stood trial for the slayings because doctors have said he is mentally ill and unable to do so.
In March 1981, a gunman shot President Reagan, press secretary James Brady and a D.C. policeman outside a Washington hotel as the president was getting into his motorcade.
Copyright 2018 The Lawrence Journal-World. All rights reserved. This material may not be published, broadcast, rewritten or redistributed. We strive to uphold our values for every story published.