Milwaukee — Ray Allen's heart sank as Sacramento's sharpshooter pulled up for a wide-open three-pointer at the buzzer that would erase the final scraps of Milwaukee's 16-point fourth-quarter lead.
"Overtime," was all Allen could fathom as Predrag Stojakovic released the ball and a hush swept through the Bradley Center.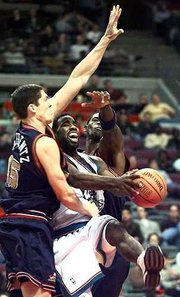 But Stojakovic's shot stayed left and Milwaukee held off the Kings, 112-109, in a freewheeling, fire-'em-up game between division leaders Tuesday night.
"I think he was surprised how wide open he was," a relieved Allen said.
Kings coach Rick Adelman slammed his fist on the sideline table three times before walking off the court dejected.
"You can't play from behind on the road against a good team and expect to win," he said.
But oh, how close the Kings had come.
"We didn't make stops. We thought we had the game under control," Bucks coach George Karl said. "And we were fortunate. I mean, that last shot could have gone in and broken our hearts.
"I don't know if we could have won in overtime."
Especially with Chris Webber doing his thing.
Webber, who missed the shootaround with a stomach virus, had 39 points, 11 rebounds and eight assists for the Kings, whose loss put idle Portland atop the Pacific Division.
"We made a valiant effort," said Webber, who scored seven points in the final 35 seconds.
"He's a hell of a player and had a hell of a night," Karl said. "But I thought we still had control of winning the game."
But the Bucks made a slew of uncharacteristic turnovers in the fourth quarter and missed 5-of-8 free throws in the final 23 seconds, including one by Glenn Robinson that would have iced it with 4.9 seconds left.
The Central Division-leading Bucks got 29 points from Sam Cassell and 28 from Allen. Milwaukee led almost the entire game, trailing just once, at 36-35.
The Bucks led 93-77 on Lindsey Hunter's jumper to start the fourth quarter but they didn't have the victory in hand until Stojakovic missed at the buzzer.
"I knew they weren't going to lay down, not on national TV," Allen said.
Milwaukee, which improved to an Eastern Conference-best 19-6 at home and 7-9 against the West, appeared to have the game in hand after Cassell and Scott Williams had key offensive rebounds that allowed the Bucks to burn nearly a minute off the clock at the end.
Williams went to the line and made one of two for a 107-100 lead with 38.2 seconds left. Webber's three-pointer made it 109-105 with 24 seconds left and Stojakovic's fastbreak layup made it 110-107 with 10 seconds left.
Pistons 94, Nuggets 83
Auburn Hills, Mich. Jerry Stackhouse scored 24 points and Mateen Cleaves added 13 as Detroit ended a six-week home losing streak with a victory over Denver. Detroit snapped an eight-game home losing streak. The Pistons had not won at home since beating Boston 101-96 on Dec. 26. Joe Smith added 12 points for Detroit.
Magic 109, Hornets 83
Charlotte, N.C. Tracy McGrady scored 26 points as Orlando stretched its winning streak to a season-high five games. Mike Miller finished with 17 points and Darrell Armstrong added 13 as the Magic shot 60-percent in the second half, including 6-of-9 from three-point range.
Nets 90, Hawks 84
East Rutherford, N.J. Keith Van Horn had 23 points and 12 rebounds as New Jersey held off a late rally and won its second straight. Stephon Marbury added 16 points and Johnny Newman finished with 11 for the Nets. DerMarr Johnson and Jason Terry each had 13 points, and Dikembe Mutombo had 12 points and 11 rebounds for the Hawks, who lost their fourth straight.
Heat 102, Pacers 89
Miami Anthony Mason scored a season-high 29 points as Miami dealt Indiana its sixth loss in seven games. Brian Grant scored 19 points for the Heat, who shot 52 percent. Al Harrington, making only his fifth start this season for Indiana, scored a career-high 20 points.
Suns 97, Bulls 80
Phoenix Jason Kidd and Cliff Robinson, benched for most of the first half, ignited a third-quarter outburst that carried Phoenix past Chicago, the Bulls' 16th loss in a row.
Copyright 2018 The Associated Press. All rights reserved. This material may not be published, broadcast, rewritten or redistributed. We strive to uphold our values for every story published.